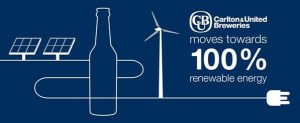 Carlton & United Breweries (CUB) has signed a 12-year power purchase agreement with BayWar.e. as it continues to moves towards sourcing 100% of its electricity from renewables.
German renewable energy developer BayWar.e. will provide 74,000 MWh per year of renewable energy, enough to power 7,500 homes, sourced from its solar farm in Mildura, Victoria. The partnership will create up to 300 jobs through construction, as well as opportunities for long term employment through the solar farm's ongoing operation and maintenance.
"This represents an important step in CUB's commitment to 100% of its electricity being sourced from renewables," comments Jan Craps, CEO of CUB. "As one of Australia's first and leading manufacturing businesses, we have a responsibility to ensure we play our part in tackling climate change and a range of environmental challenges."
CUB is also moving towards on-site solar generation, which will see solar panels installed on the rooftops at each of the company's breweries.
"Beyond our driving commitment to reduce our emissions, the investment also stacks up when you look at the reduced price we will pay to power our operations," adds Craps. "Moving to renewable energy will ensure that we have certainty of supply and pricing, something that is incredibly important for a manufacturing business like ours."
Construction of the 112MW solar farm is already underway, with BayWar.e. having self-financed and constructed the 4km grid connection. It will be built by Melbourne-based Beon Energy Solutions.