The company that owns the likes of the GABS festivals has acquired a suite of regional beer and wine festivals from the Schwartz Family Company (SFC) and now plan to add further products to complete a year-round events portfolio .
As well as putting on GABS events annually in Melbourne, Sydney and Brisbane, plus running the GABS Hottest 100, GABS Can Design Awards and others, owners SpecTAPular Enterprises have now added the Canberra Craft Beer & Cider Festival, the Hunter Valley Wine & Beer Festival and will kick-start the Gold Coast Beer & Cider Festival as part of the deal with SFC. The first of an expected series of the new "Finer Drop" events is also set to take place in November in Sydney, which SpecTAPular said will be "a showcase of elegance, sophistication and unparalleled indulgence" in the food, beverage and entertainment space.
Jerry Schwartz, whose hotel group owns Sydney Brewery, the Sofitel Sydney Darling Harbour, Hilton Surfers Paradise, Mercure Hotel Canberra amongst others, has now taken up a board appointment and partnership equity in SpecTAPular.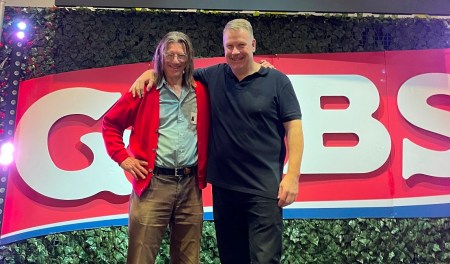 In a media statement, Dr Schwartz (pictured above on the left with GABS' Mike Bray) said we was delighted to be incorporating the Canberra and Hunter Valley events – each with more than a decade of history – into the SpecTAPular calendar. The inaugural Gold Coast Beer & Cider Festival had been due to take place in late 2021 but was cancelled due to restrictions caused by Covid-19, while a return in 2022 was put on hold whilst, SpecTAPular said, "negotiations between the parties were being finalised". They said the event will return but in a revised format.
"It is a fantastic platform which will help take these events to new heights over the next 10 years and beyond," Dr Schwartz said.
"We're also looking to introduce some new premium events and products, the first being Finer Drop, as we continue to grow and provide consumers and exhibitors with more world class experiences."
GABS' managing director Mike Bray added: "The partnership with Jerry is a natural fit on all levels. He brings a wealth of experience in providing local and international guests exceptional experiences every day. I see huge potential to build on the incredible work the SFC team have done with the Canberra Beer & Cider Festival and Hunter Valley Wine & Beer Festival over the years."