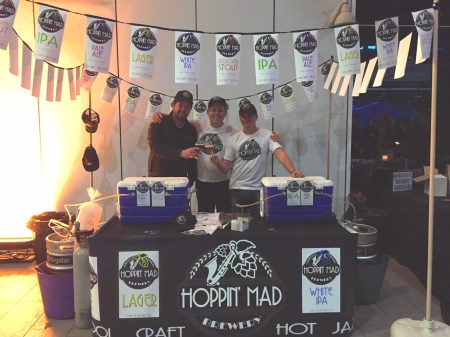 By Li-Mei Russell
Li-Mei Russell chats with boutique beer brewer Simon Stribling about his love for hot jazz and cool craft and how he is working to bring them together with his Hoppin' Mad brews.
Professional jazz musician turned backyard brewer, Simon Stribling can often be found balancing his saxophone in one hand with a pint in the other.
On his annual music-inspired trips to Europe, Stribling fell in love with Belgian beer in a simultaneous romance with the golden age of jazz and the golden drink.
"I would go to Belgium all the time for gigs and I fell in love with the wheat beer of Antwerp and Brussels," he says.
Following his journey through Belgium and the European jazz scene, Stribling set up camp in Whistler, Canada, where he started his own homebrew system in his garage.
"I had one of the biggest bootlegging beer businesses in Whistler," he says.
Stribling even made a small bartering business from exchanging his homebrew for goods from mates and neighbours.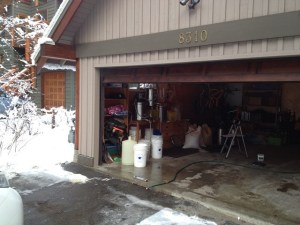 "A lot of my mates owned ski-rental businesses and other outdoor equipment like North Face so I accumulated like five ski jackets and four pairs of skis and in exchange I would put on the beers for their Christmas parties."
Taking on his knowledge of homebrewing, the Aussie jazz man first found a way to fuse his passion for music and beer by throwing parties in his backyard.
"My wife and I we used to put on these speakeasy's, we would send out emails to our friends, $20 gets you entry to a jazz band and two beers, which of course would end in a monstrous piss-up," he says.
"And that was the seed of it all, what's the best way to absorb the cost of a jazz band – through the sale of beer."
Today Stribling gypsy brews and already has beers on tap at the Lord Raglan in Alexandria, Arcadia Liquors in Redfern, the Dove & Olive in Surry Hills and the Sugar Lounge in Manly.
"I want to thank Martin Roberts at St Peter's Brewery whose allowed me to test the water without having to invest hundreds of thousands of dollars but I can try and test it out there."
Hoppin' Mad is best known for its White IPA, a Belgium Saison Wit Beer which is a dry hop with citra and also its Chocolate Oatmeal Stout is starting to build popularity.
However Stribling saw more than just dollar signs when he put beer and jazz together.
According to Stribling the roots of Jazz music are crucial to understanding the symbiotic relationship between an ale and the smooth sounds of Louis Armstrong.
"I mean jazz used to be a dirty word, Jazzin' used to mean shagging and it started in the bordellos, so if you look at that model it was something the common people could relate to," he adds.
"To me beer and jazz are a lot like the glitz and glamour of The Great Gatsby,  jazz was the music for the people, the miners, the steal workers, and so is a great ale."
Stribling hopes to be able to support himself solely from making music and brewing beer and his ultimate goal is to have a space where he can play jazz and continue to brew "some really cool crafts".
"Ultimately I would want my own brewery, I mean I think that's the ambition for most gypsy brewers and I've got eight years of intellectual property of recipes to try out."