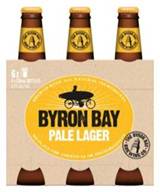 The launch last week of the packaged product from Byron Bay Pale Lager has drawn criticism from sections of the beer media for failing to note the involvement of CUB in the brewing and marketing.
Previously only available at the local venue, the Byron Bay Brewing Co has its bottled beer brewed under license by CUB. However, the labels on the bottles and the packaging fail to state this fact, instead simply noting that the beer is brewed in NSW by Byron Bay Brewing Co and its licensees.
CUB is also involved in the marketing side of the agreement, with the beer to be on sale in First Choice, Liquorland and Vintage Cellars, as well as other venues and outlets across the country.
Reputedly a refreshing brew with low bitterness and a balanced citrus aftertaste, the beer is the flagship brew of the Byron Bay Surfing Festival and was awarded a bronze medal at the 2012 AIBA.