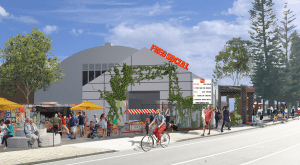 A new cultural entertainment venue and microbrewery in Fremantle has been confirmed.
Freo.Social is an ambitious, multi-faceted venue being developed in the historic Artillery Drill Hall site by Triple-1-Three – the team behind Otherside Brewing Co.
Due to open in March 2019, the 550-person capacity entertainment hall will include a microbrewery, co-working spaces and artist workshops, as well as food trucks, catering and beer garden. Located in the heart of Fremantle's heritage precinct, Freo.Social has been in planning since 2015, with construction commencing in November 2016.
"Freo.Social is a flagship development for Triple-1-Three," says David Chitty, director of Triple-1-Three. "It has involved a significant investment to plan and build, and really will be something quite special. Nothing like it exists here in WA.
"The site itself has a long history of activation as a social space. Our vision has been to build on that by creating a festival-like destination that continues to deliver a diverse range of compelling social, creative and cultural experiences, great beer and dining options, and interesting spaces"
Otherside Brewing's head brewer Rhys Lopez has said that the Otherside beer range will be available at the venue, while the team also intends to use the brewpub – which will be called Otherside Brewshed – to produce as many new, experimental beers as possible.
"I'm really excited about the opportunities Freo.Social brings for Otherside," he comments. "It's going to be a lot of fun knocking out new beers all the time. We'll be able to do some wacky stuff, and of course we'll have all our core and pilot range beers on tap too."
It is anticipated that Freo.Socail will create 50 local jobs, as well as numerous show and gig opportunities for local and national artists, creatives and musicians. Freo.Social's Entertainment Hall will host its first show in April 2019.