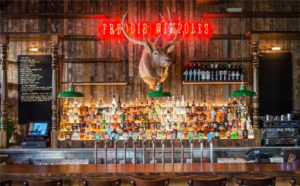 By Stefanie Collins, editor BARS&clubs
Beer and whisk(e)y were the big winners at this years' Time Out Melbourne 2017 Bar Awards, with the winners of Bar of the Year and the People's Choice Award specialising in both.
The People's Choice award was taken out by St Kilda's American-style roadhouse bar Freddie Wimpoles, which specialises in craft beer.
Located int he former George Hotel in St Kilda, Melbourne, Freddie Wimpoles opened in May last year.
With 13 rotating craft beers on tap, New York-style deli food, a welcoming hunting lodge with neon-lit American diner atmosphere, a poolroom and a jukebox, this is one venue worth checking out.
Russell Street institution Whisky and Alement was named Bar of the Year with the well-loved venue, which has been introducing Melbourne whisky fans to rare and unique drams since 2010, also taking out the award for Best Bar Team.
According to Time Out's National Food and Drink Editor, Emily Lloyd-Tait, the bar is iconic for being the first to really champion whisky in Melbourne, as well as curating an excellent craft beer collection.
"They seek out limited edition single malts, knew to hoard Japanese whiskies before the boom, and always offer warm service to novices and experts alike," she says. "Drinking here is both and education and a pleasure."
Bartender of the Year went to Joe Jones of Romeo Lane, with the bar also named Best Cocktail Bar for 2017.
The Time Out Legend Award was given to Cherry Bar in recognition of its dedication to Melbourne's live music scene.
"We're honouring a rough-and-ready rock'n'roll bar that has helped make Melbourne the country's live music capital, and that for the last 17 years, has pushed for positive change in the music industry," says Time Out's Melbourne Editor, Rose Johnstone.
Among the bars to open in Melbourne in the past year, Loretta's at Bluebonnet BBQ in Fitzroy North was named Best New Bar.
Best Wine Bar went to Fitzroy's Bar Liberty, while Lazerpig in Collingwood was named Best Party Bar, and Bar Lûmé in South Melbourne took out the award for Best Bar Food.
Designed to pinpoint a future star of the Melbourne bar scene, the Hot Talent Award was given to Bar Americano bartender Liana Oster.
FULL LIST OF NOMINEES AND WINNERS:
BAR OF THE YEAR
Whisky and Alement WINNER
LEGEND AWARD
Cherry Bar WINNER
PEOPLE'S CHOICE
Freddie Wimpoles WINNER
BARTENDER OF THE YEAR
Joe Jones, Romeo Lane WINNER
Trish Brew, Gin Palace
Dave Molyneux, The Everleigh
Serena O'Callaghan, Jungle Boy
Jack Sotti, Boilermaker House
BEST BAR TEAM
Whisky and Alement WINNER
Black Pearl
The Everleigh
Jungle Boy
Romeo Lane
HOT TALENT AWARD
Liana Oster, Bar Americano WINNER
Cennon Hanson, Bad Frankie
Hannah Lawson, Loretta's
Andrea Marseglia, Boilermaker House
Mel Musu, The Rooks Return
BEST COCKTAIL BAR
Romeo Lane WINNER
Bar Americano
Black Pearl
EDV
The Everleigh
BEST WINE BAR
Bar Liberty WINNER
Embla
Gerald's Bar
Marion
Smalls
BEST NEW BAR
Loretta's WINNER
Above Board
Bar Liberty
Bodega Underground
Heartattack and Vine
BEST BAR FOOD
Bar Lûmé WINNER
Bar Lourinha
The Beaufort
Loretta's
Smalls
BEST PARTY BAR
Lazerpig WINNER
Cherry Bar
Heartbreaker
Hats and Tatts
Leonard's House of Love