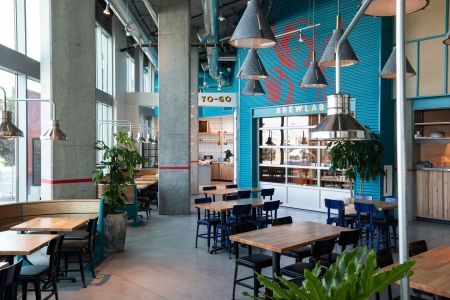 Lion has opened its first Little Creatures venue and microbrewery in the United States.
The new venue, which officially opened on Friday 26 July, is located in San Francisco's Mission Bay, adjacent to Oracle Park – home of the San Francisco Giants baseball team – and near the soon-to-be-opened Chase Centre – home of the Golden State Warriors basketball team.
The new venue will feature 36 taps, with beers brewed exclusively on-site, as well as a core range of beers imported from Australia. Fresh beer from 'tank to tap' is the mantra at the venue. Bright beer tanks will be connected directly to beer fonts.
"San Francisco has an array of great craft brewers and passionate beer consumers, so it's the perfect launchpad for introducing Little Creatures to the US," says Luke Higgins, Lion's commercial operations director. "The craft beer market in the US is showing signs of a very positive future. In 2018, craft beer sales were up 4 percent by volume, and retail sales were up 7 percent to $27.6bn, so it's a good market to be in.
This new opening follows previous overseas ventures, with Little Creature venues now located in London, Hong Kong, Singapore and Auckland. Little Creatures is also partnered with venues in Beijing, Shangai and Taipei.
"We're looking forward to seeing Little Creatures Mission Bay become part of the craft beer community on the west coast of the US and we're excited to see it already creating a buzz," adds Higgins. "The new venue will be all about introducing the famous Little Creatures beers and hospitality to a new part of the world and ensure the locals over here enjoy it as much as we know the Little Creatures global community does."