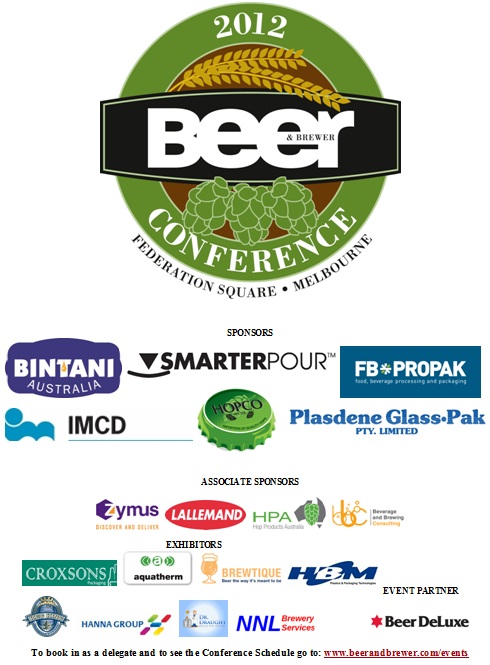 Things are heating up as theBeer & Brewer Conference draws nearer. With expert panellists from throughout the industry confirmed to speak, the event promises to be a unique opportunity for attendees to access some of the greats of the brewing industry as they impart their experience in all different areas, and on a wide range of topics, related to brewing, retailing and cider.
Senator Christine Milne to open the Beer & Brewer Conference
As well as covering something for everyone with a range of conference speakers from all walks of the brewing, retailing and cider industries, we can exclusively reveal that the conference will be opened by the newly appointed leader of The Greens, Senator Christine Milne. As well as being a documented beer lover – she has previously featured in the magazine – Christine is a staunch supporter of excise reform for the benefit of craft brewers and microbreweries across the country. Don't miss her opening address when the conference kicks off at 8:45am, Thursday May 17, atBMW Edge, Federation Square, Melbourne in the heart of Melbourne's CBD along the Yarra River.
Designed to fit in a trip to the AIBA awards, it's sure to be an educational and informative day, says organiser David Lipman, with a focus on helping the brewing and beer retailing industries up to date with new developments. "Brewers need to ensure they are brewing consistent quality beer, are aware of new ingredients, keg, draught beerdispense and packaging options, as well as how to administer excise tax and more," he explains. "While retailers need to ensure they are stocking the beers and ciders in demand from the 2000+ options on the market, and their staff need to be well armed with the knowledge and confidence to sell these products".
Retailsessions for venues & brewerieson distribution, marketing, building a beer listand staff training
The business of retailing and serving beer, particularly craft beer, is an expanding industry and keeping staff up to date with styles and varieties can be a difficult task. But there are experts that can lead venue managers – as well as bar and bottle staff – through the challenges of training and building a beer list. Experts like Brian Fitzgerald, a qualified Ciceronetm, or beer sommelier, and the only one of his level of expertise in Australia. Brian will be sharing his experiences and knowledge along with Ian Kingham, from ALH, in one session, while accredited trainers from the IBD – including Hugh Dunn from ECU, Peter Aldred from the Uni of Ballarat, Mike Spencer from Brewtique and Simon Brooke-Taylor from NNL Brewery Services – will be presenting on the topics of beer styles and taste training in another.
Starting a microbrewery & the business of brewing
Articles and discussions on starting up a microbrewery are always popular in Beer & Brewer and there are plenty of full-mash homebrewers harbouring a secret desire to start a microbrewery of their own. But where exactly to start? Well, Lipman has collected some of those in the know to tackle exactly this issue including high profile speakers Howard Cearns, founder of Little Creatures, Brendan Varis of Feral Brewing, Australia's top craft brewer and Beer & Brewer's Brewer of the Year 2011, and Brian Watson, who has been responsible for developing over 50 beers and breweries around the world. This session is not to be missed for those interested in the business of brewing and starting a microbrewery.
11 informative and educational 30 minute sessions to attend at the one day event
For those already in the brewing industry there are panel presentations covering all aspects of the industry, including packaging trends and developments, and the importance of distribution, marketing and retailing. And, for brewers in particular, experts from the fields of hops, malt and yeast will cover varieties and strains by beer type, purchasing, and recipe development in sessions designed to be informative and educational. To that end, the panellists in each session have been chosen with an eye for creating as balanced a view as possible. This means attendees will be hearing from speakers from a range of suppliers – both local and importers, including Bintani, HPA, Hopco, Cryermalt and Lallemand – creating a unique opportunity to learn what is happening in each area of the industry.
Cider – styles, trends, production & more
And don't think we have forgotten the cider makers. There will be a session solely dedicated to apple wines, scrumpy, cloudy and lots more, with some heavy hitters in of the cider world, such as head cider makers Nathan Hyde of Little Creatures fame and Drew Henry of the eponymous Henry of Harcourt (Victoria).
The administration of excise tax with the ATO
Excise tax is always a sensitive issue for retailers, brewers and beer lovers alike. To that end, Caraline Hill from the ATO will be presenting in a session dedicated to the Administration of Excise Tax – a vital session for retailers, brewers and cider-makers alike. Caraline will be supported by brewersto share their experience withexcise taxincluding Hugh Dunn (ECU), Kylie Little (The Little Brewing Co.), Owen Johnston (Moo Brew) and Paul Holgate (Holgate Brewhouse).
If you are involved in the brewing, retailing or cider industries, this conference will offer valuable information and insights from experts in every field, making it a worthwhile day out.
Click here for more information on the full schedule, speaker profiles, exhibitors and more.
CLICK HERE TO BOOK IN AS A DELEGATE .
Beer & Brewer Conference
Thursday, May 17, 2012
9am – 4pm.