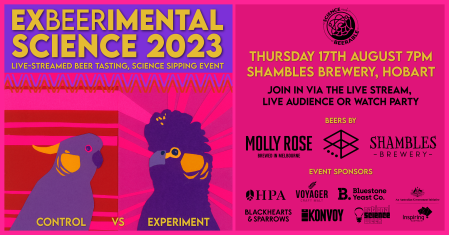 Be part of the exBEERiment at Science Made Beerable's beer-tasting, science-sipping event exBEERimental Science on August 17.
Organised by Science Made Beerable scientists Kelsey Picard and Matthew Fielding and staged during National Science Week, this year's event features Australian independent breweries Range Brewing (QLD), Molly Rose Brewing (VIC) and Shambles Brewery (TAS) who have crafted experimental beers that highlight brewing science.
"Each brewery will brew a set of two beers that essentially have the same ingredients and conditions as one another… except for one key experimental difference," Kelsey said.
"On the night of the event, the three brewers will join us in a panel discussion to delve into the science behind the beers, while we sip on the beers together."
Matthew added: "This year, punters can either join us directly in the lab as a live audience member, watch from home with their own exBEERimental six-pack or attend one of our new official watch parties".
The live lab event, which is sponsored by Hop Products Australia, Voyager Craft Malt, Bluestone Yeast and Konvoy Kegs, will be held at Shambles Brewery on August 17.
To find out more and to buy your six-pack, check out the Science Made Beerable website.
National Science Week 2023 will run from 12-20 August. All event details can be found here.
This is an edited version of a media release distributed by Science Made Beerable.