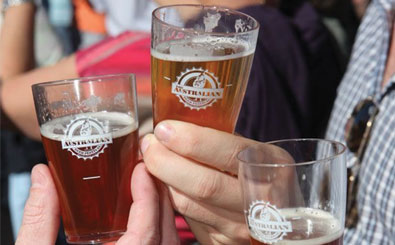 The annual Australian Beer Festival will return to The Australian Heritage Hotel in The Rocks from 16-18 October 2015.
As part of the festival, Australia's best home brewers are invited to put their beer-making skills to the test and take part in the Home Brew Championship. A panel of beer experts and enthusiasts will judge the entrants, with the winners announced on 1 October.
First prize includes full day passes for the winner and three friends on Dave's Brewery Tours around Sydney's top Inner West spots, with lunch included and insider brewer treatment. Second prize is more than $100 worth of tasting cups and tickets to use at this year's festival.
The 11th annual Australian Beer Festival will feature more than 130 Australian beers and ciders, as well as blind tastings, Meet The Brewer sessions, food stalls and live music.
There will be seven awards presented at the festival as well as the prestigious Geoff Scharer Best Overall Beer, awarded in memory of pioneering craft brewer Geoff Scharer.
All brewers attending the festival are encouraged to brew a limited edition specialty beer to be served throughout the weekend.
Entry is free and tasting tickets are $25 for 10, available on the door or pre-purchase here.
For more information or to enter the Home Brew Championship, contact Seonaid Arthur on (02) 9247 2229 or email sarthur@australianheritagehotel.com. Entries close 28 September.