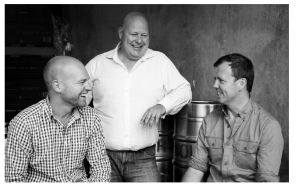 Endeavour Brewing Co has launched expressions of interest in its upcoming Equity Crowdfunding campaign, making it the first ever equity brew raise in Australia.
Endeavour is hoping to raise up to $3m from the campaign. Expressions of interest kicked of on Monday 29 October.
The company has plans for an aggressive expansion and to move away from outsourcing the bulk of its beer production by building a production brewery and wholesale manufacturing facility.
Following recent legislation changes to Equity Crowdfunding in Australia, Endeavour Brewing Co. jumped at the chance to launch an Equity Crowdfunding campaign, giving beer lovers the chance to invest in an Aussie beer company and brewhouse where they can enjoy and sample their investment.
"Instead of turning to traditional venture capitalists we want to open up shares in our business to create a community of fellow beer lovers and enthusiasts who can join us and experience the success of our once small idea and now big Aussie business," says Ben Kooyman, founder of Endeavour Brewing Co. "We've been thinking of this for a while and the legislation change sprung us into action. It's exciting and there's a few other breweries now thinking about it.
"It's [the expansion] an ongoing project that we've started. We've identified a couple of areas we're keen on. We're looking for new horizons. We've already costed out everything and the amount of capital we raise will determine the speed and size. It's a bit of chicken and egg, but we've done the work on the numbers. It's definitely happening and we're really excited."
Endeavour is using Equitise to manage its campaign, where individuals can invest from $100 to $10,000 in the company. 'Sophisticated' and wholesale investors can go above that upper threshold. More details will become available when the offer document in launched in late November, but investors should expect exclusive access and discounts in the short term, and full access to their share of dividends depending on how the business performs in the long term.
"We're stoked to have Australia's first brew raise on the Equitise platform, it's great to see thriving small businesses turn to everyday Aussie investors to accelerate their growth whilst also offering them exclusive perks and experiences, this is what Equity Crowdfunding is all about," says Chris Gilbert, founder and managing director of Equitise.
"The government has spent time making sure they have the right process," adds Kooyman. "It's pretty stringent and hopefully that will give investors some comfort. It's a really well thought out process and it's now in action."