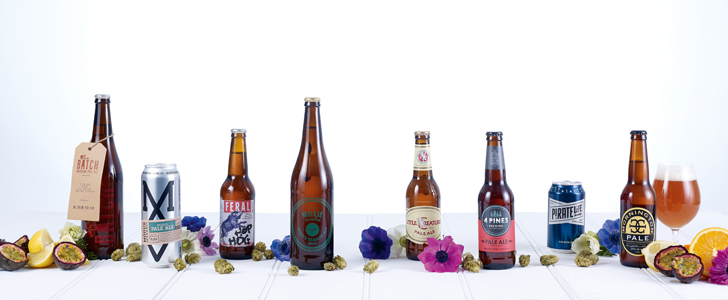 Australia's most consumed style, according to a recent survey by craft beer retailer Beer Cartel, pale ales are popular all year round. We take a look at eight to try this season!
Batch American Pale Ale
This is the first beer Batch Brewing Co. ever made. A combination of Vienna and caramel Pilsner malt round off a malt bill that leans towards the drier end of the style, softening its body a touch, before big hits of Cascade hops from the whirlpool and fermenter give a complex burst of fresh cut grass, citrus stone fruit and a touch of pine. This is the beer that shows the quality and nuance you can expect from Batch Brewing Co.
FOOD MATCH
Cheeseburger with chips
ABV: 5.2%
RRP: $12.99 per bottle (640ml)
Modus Pale Ale
One of Modus Operandi's many award-winning beers. Dry hopped with Yakima Valley's favourite heavy hitting hop, Simcoe, this beer is a hop head's dream. Rich golden in colour, as soon as Modus Pale Ale is poured expect a big burst of pine and citrus hops aromas, which follow onto the palate followed by a crisp finish.
FOOD MATCH
Chilli chicken pad see ew
ABV: 5.2%
RRP: $9.99 per can (500ml)
Feral Hop Hog
Sitting somewhere between a pale ale and an India pale ale is Feral's Hop Hog, which recently crossed out the 'India' on its label just leaving pale ale. While it may not fit into a specific style perfectly, it does seem to fit into craft beer lovers' hands (and bellies) extremely well. A multi-award winning beer, Hop Hog explodes with American citrus, fruity, piney hops, which are held together by a solid malt backbone.
FOOD MATCH
Spicy Asian chicken wings
ABV: 5.8%
RRP: $17.90 per four-pack (330ml)
Willie The Boatman Todd's Trailer Ale
Brewed in Sydney's inner west, Willie The Boatman Todd's Trailer Ale is a well-balanced American pale ale. Three additions of Citra hops create some spicy, tropical fruit aromas on the nose, which continue to the palate where they are joined by a big malt body.
FOOD MATCH
Wood-fired pepperoni pizza
ABV: 5.5%
RRP: $11.99 per bottle (640ml)
Little Creatures Pale Ale
A hop driven pale ale bursting with flavour and aroma. Full-bodied yet refreshing, the bitter finish will leave your tastebuds craving more. Since day one, Little Creatures has brewed its Pale using whole hop cones, sourced straight from the US directly to its breweries (something pretty unique) and use a hop back to extract those beautiful, hoppy aromas and delicate bitterness. Preservative and additive free, the Pale Ale is live yeast conditioned in the bottle (after filling) for unmatched freshness and character and takes about six weeks from brewing to be released.
FOOD MATCH
Mussels or chargrilled chicken
ABV: 5.2%
RRP: $22.99 per six-pack (330ml)
4 Pines Pale Ale
This pale ale of a rich golden, copper colour throws up vibrant hoppy aromas. Citra, Amarillo, Cascade and Simcoe hops leave a fresh fruity glow on the palate. The hops are refined and balanced well with the firm bitterness that delivers rich taste and a clean linger. The full body and good malty background make this a delightful flavoursome and refreshing ale.
FOOD MATCH
Chicken schnitzel and chips
ABV: 5.1%
RRP: $18.90 per six-pack (330ml)
Pirate Life Pale Ale
This beer has a fabulous chestnut colour and a nice big head on it as well. Pirate Life Pale Ale shows a great balance of hops and creamy malt, fresh bitterness with a crisp dry finish. The beer has a great mouthfeel and tastes incredibly fresh. A well-crafted beer by the talented team at Pirate Life.
FOOD MATCH
Tempura prawns
ABV: 5.4%
RRP: $5.50 per can (355ml) 
Mornington Pale Ale
Mornington Pale is an American-style pale ale, pouring a cloudy golden yellow with a tightly-packed white head. The Pale has both citrus and passion fruit aromas, showcasing American hops added late in the brewing process. A light smooth palate, aided by the generous addition of wheat malts, moderate bitterness and carbonation make for a flavoursome and sessional ale.
FOOD MATCH
Fish 'n' chips
ABV: 4.7%
RRP: $22 per six-pack (330ml)