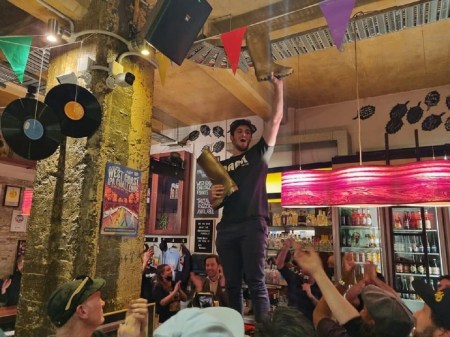 Nelson brewery Eddyline has seen off 35 other New Zealand breweries to win this year's West Coast IPA Challenge hosted by pioneering Wellington craft beer bar the Malthouse.
In the event's 15th year, which the Malthouse said featured beers that were "the best (they) have ever seen", Eddyline's That Eddy's Drop WCIPA won the "golden gumboots" trophy on July 29 ahead of Wellington's Baylands Brewery's (winner of the 2021 title) The West Coast Electric and Hastings' Brave Brewing's Here Come the WCIPAs in third. Auckland's Liberty Brewing's Firestarter won the People's Choice Award.
Regarded as one of the country's most coveted beer awards, that has helped shape New Zealand's craft beer identity, the event began in 2008 as a challenge between Epic Brewing's Luke Nicholas and Hallertau Brewery's Steve Plowman that resulted in the creation of beers that remain among their most popular and most decorated – Epic's Armageddon and Hallertau's Maximus. The first few years of the event remained a head-to-head battle between the original two before breweries from around the country were invited to compete. With just one rule – that submissions stay true to the spirit of a WCIPA – the competition is assessed by a panel of beer judges and the patrons who attend the one-day event at the Malthouse and at its sister venue the Fork & Brewer.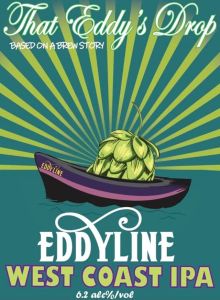 Eddyline co-owner Mic Heynekamp said the win couldn't arrive at a better time for the "small family-owned Nelson brewery" with it coming on the heels of a 14 medal haul at the recent Brewers Guild of New Zealand Beer Awards, that included (fittingly) gold for their Kaiteri Gold Lager. They have also, in a first for a New Zealand craft brewery, started to employ carbon capture technology as they embark on a more sustainable brewing journey that includes the installation of a 60kW solar system.
"Although we love our beers we never imagined we would have a shot at being the best," Mic said. "The previous winners are all highly respected breweries and to be in their ranks is an amazing feeling. It's a great club to be a part of."
The theme for this year's challenge was "rock music of the 60s/70s/80s/90/00s and the classic album covers" with Eddyline's entry, that features seven West Coast hop varieties, taking inspiration from New Zealand seven-piece electronic act Fat Freddy's Drop's Based On A True Story album.
Head brewer Allan Woods said: "I've been a massive fan of Fat Freddy's Drop since they released Based On A True Story in 2005. A super fun album that never fails to lift my spirits. I have the fondest memories of driving to Bethells Beach in my beat up Hillman Hunter, sweating on vinyl seats and listening to Wandering Eye. It seemed a natural choice as inspiration for our West Coast IPA Challenge beer. A super fun beer. A super fun album".