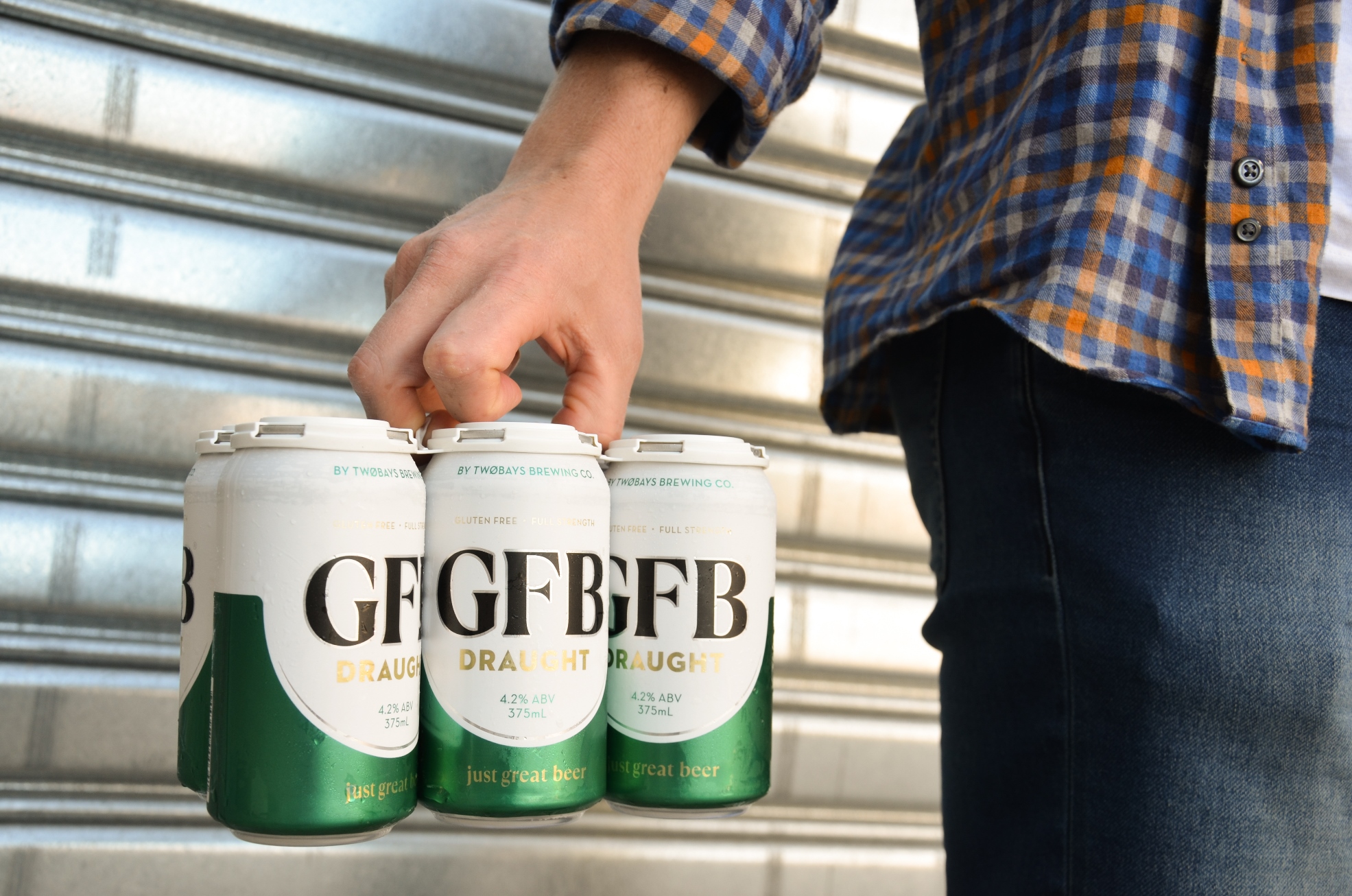 Australian gluten free brewery TWØBAYS has found success following in the footsteps of their craft counterparts by launching an "easy-drinking" beer sub-brand with the first release selling out online in just 24 hours.
Much like Moo Brew's sub-brand BREW – that deviates from the brewery's craft credentials to offer approachable options to a wider audience – TWØBAYS' GFB, and the 4.2% first offering Draught, is the gluten free equivalent. Where their craft beer options are sold in packs of four or 16, the GFB range come in six-packs and slabs of 24. And instead of the millet, buckwheat and rice malts harnessed in their range up until now, GFB beers use sorghum and rice malts "to create that easy-drinking flavour profile".
"We knew this would be a popular move, but we did not expect to sell out online in 24 hours," CEO and founder Richard Jeffares said. "GFB is not the same as our craft range. It's a classic, easy-drinking Aussie-style Draught beer. And while we're not deviating from the craft beer offering with that range, it's great to have put another option into the gluten free market. Everyone has a different taste and everyone deserves to be able to drink great beer, whether at home, with friends, or with a meal at the pub."
The GFB sub-brand is the Victorian brewery's biggest beer launch since their first back in 2018 and it sits alongside a core range that consists of a Pale Ale, which took gold at The Indies last year, an XPA and IPA – which won silver and bronze respectively at the same awards – and the most recently released Lager.
"We know that a large community of Aussies love exploring the world of gluten free craft beer," Richard added. "And we're going to continue on that brewing journey. But we've also had feedback that people just want a gluten free version of an easy-drinking, classic Aussie beer taste too."
While the first release has sold out, orders for the second batch of the Draught (due in October) are being taken on the TWØBAYS website.