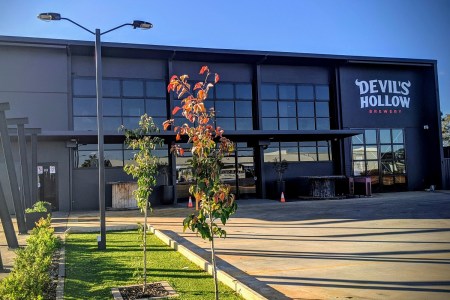 Dubbo's first craft brewery is for sale with the Devil's Hollow Tavern and Brewery hitting the market after launching in July 2019.
The 2,260 square metre total land holding in Dubbo's Blueridge Business Park includes a 12 hectolitre brewhouse, restaurant and kitchen, outdoor dining and 25 off-street carparks. The brewpub, which was originally called Devil's Elbow Brewery, also has a full Hotel Licence and holds a local impact assessment (LIA) for 20 poker machines.
Founded in July 2019 by longtime friends Brendon O'Sullivan and Paul and Melissa Knaggs, as well as a syndicate of people that formed an executive committee, the ensuing years would bring a series of challenges for any new business in country NSW, with the bushfires of the 2019/20 Summer compounded by the ongoing economic impact of COVID-19.
But Devil's Hollow's website states they had attracted "many hundreds of thousands of tourists and travellers beyond (their) loyal community" and HTL Property, who are managing the sale, are bullish about the company's future, calling it "a potential gaming brownfield opportunity in the prosperous regional centre of Dubbo".
Speaking with Beer & Brewer, co-founder and general manager Brendon O'Sullivan said: "The reasons (for selling) are pretty straightforward. Essentially the partners have built a successful business and something we're proud of and something original that was brought to Dubbo."
A media statement from HTL Property said: "Vendors for the asset are a syndicate of local business identities fronted by Melissa and Paul Knaggs, who are divesting the asset as it sits slightly outside of their core business of civil and industrial development".
"Given the proximity to the large blue collar worker base of the Blueridge Business Park and the very high potency gaming venues within the Dubbo LGA (eight venues rank within the OLGR top 600), there exists the opportunity for an experienced operator to introduce gaming to the venue by acquiring or leasing poker machine entitlements," HTL said in the statement.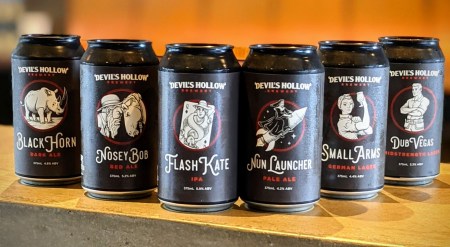 Devil's Hollow have a core range of nine beers that, as well as being sold both on tap and via takeaway at their Dubbo venue, can be found in select venues and bottleshops in NSW.
The business also promotes its sustainability attributes and was built with the likes of a sloping, north-facing roof to accommodate a 90kw solar system to power the brewhouse and the heating and cooling required for their internal space that fits 400 patrons. They also installed a water treatment system to clean their brewing wastewater.
Expressions of interest can be made through HTL Property before 12pm September 1st 2022 (unless sold prior).