On April 30, Beer & Brewer readers, local brewers and beer fans got together to celebrate Issue 24 of the magazine at the Earl of Leicester Hotel in Adelaide.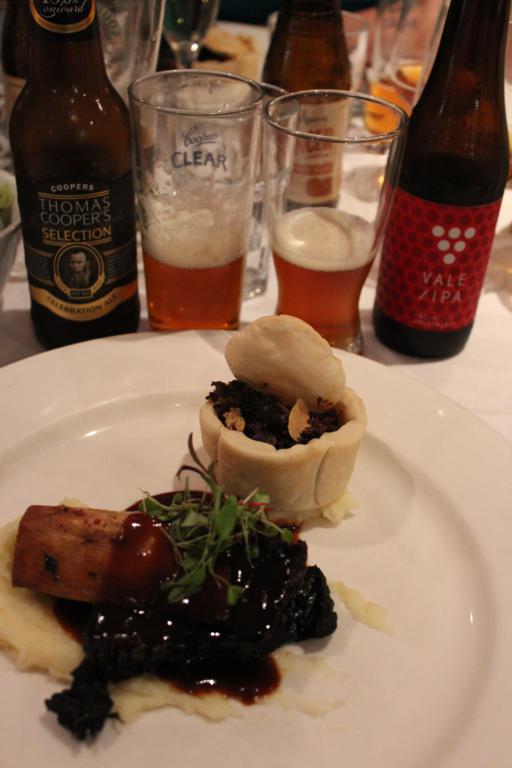 After enjoying a selection of 26 local and imported beers and ciders at the Welcome Drinks, dinner guests were treated to an amazing five course dinner with 11 beers and one cider – including two very limited imports in the Brooklyn (US) Anniversary Lager and the Fullers (UK) 2011 Vintage Ale.
Each beer and/or cider match was intensely discussed by the attendees as everyone decided on their favourites and shared their opinions. Each beer was introduced by the brewer or expert – including importers, company directors and sales managers – attending to represent the brand for the evening.
Special guest Michael Weldon spoke about the burgeoning art of beer and cider matching – something he has been working on in partnership with Coopers – while the award for the most entertaining speech went to Dr Tim who declared that beer "is a meal in a glass" and that young people are far better off drinking it than RTDs as beer is far better for their health. As expected this was greeted with delight by the crowd and he was given a huge cheer. Dr Tim also entertained guests by declaring that the days he didn't have at least four beers stood out in his mind as they were so rare.
Plenty of prizes were given away on the night – including a Coopers Celebration Ale magnum worth $150 and Members reserve tickets to the AFL, generously donated by a guest who works for Channel Nine. Plenty of Beer & Brewer back issues and Breweries of Australia books were also snapped up by the crowd.
Many thanks to the Earl of Leicester owners and staff who made the evening a seamless and delicious affair. Cheers!
Head to our Facebook page to see more photos of the event.
WELCOME DRINKS BEER & CIDER LIST:
ACME (USA) IPA

Birbeck's (SA) Four Brothers IPA 5% ABV

Brewboys (SA) Maiden Ale

Brewboys (SA) Ace of Spades

Brooklyn (USA) Lager

Coopers (SA) Pale Ale

Coopers (SA) Lager

Coopers (SA) Sparkling Ale

Coopers (SA) Best Extra Stout

Coopers (SA) Celebration Ale

Coopers (SA) Mild Ale

Dr Pilkington's (SA) Miracle Cider 5% ABV

Hills (SA) Apple Ginger Hybrid Cider

Hills (SA) Pear Cider

Hofbrau (Ger) Dunkel Dark Lager 5.5% ABV

Fullers (UK) London Pride Ale 4.7% ABV

Knappstein (SA) Reserve Lager

North

Coast (USA) Blue Star Wheat Beer

Prancing Pony (SA) BLACK Ale

Vinaceous (WA) Forbidden Fruit Pear Cider 6.5% ABV
DINNER PRESENTING BREWERS/EXPERTS:
MENU with Beer & Cider pairings

5 courses, matched to 12 beers, presented by 11 breweries.

***Course 1***
Crispy skin pork belly with pulled pork wonton, seared scallop and saffron, apple puree
Beer match: Swell (SA) Wheat Belgian Wit 4.5% ABV.
Cider match: Hills (SA) Apple Cider 5.0% ABV.

***Course 2***
Confit duck leg risotto with fresh garden peas and sautéed pancetta
Beer matches: Birbeck's (SA) The Captain Australian Mild Ale 2.9% ABV,
James Squire (NSW) The Chancer Golden Ale 4.5% ABV.

***Course 3***
Sticky BBQ beef rib with stout mash
Beer matches: Coopers (SA) Celebration Ale 5.2% ABV,
VALE (SA) / IPA 5.5% ABV.

***Course 4***
Individual espresso and dark chocolate tiramisu
Beer matches: Prancing Pony (SA) BLACK Ale 6.0% ABV,
Barossa (SA) Milk Stout 7.0% ABV.
BONUS beer match: Southwark (SA) Old Stout 7.4% ABV.

***Course 5***
Shared cheese platters
Beer matches: Brooklyn (USA) Silver Anniversary Lager 9% ABV,
Fuller's (UK) Bottle Conditioned 2011 Vintage Ale 8.5% ABV.
BONUS beer match: Barossa (SA) Imperial IPA, 94 IBU 8% ABV.