As our last Summer Seasonal, Dog Days was a hophead favourite…so we're bringing it back FOR GOOD. And for the first time in Little Creatures history, we're putting our beer in a can.
It's back! Dog Days was a hophead favourite when it was released as our last Summer Seasonal back in October 2015. The message from our fans was loud and clear: you wanted this beer all year round.
Our brewers couldn't get enough of it either, so we've brought Dog Days back. For good. And for the first time in Little Creatures' 16 year history, we're putting our beer in a can.
Cans have many benefits as a container for beer – lighter, easier to chill and perfect to take to with you to your favourite summer haunts, cans are able to go many places bottles can't. They also do a great job of keeping out the sun and sealing in the flavour.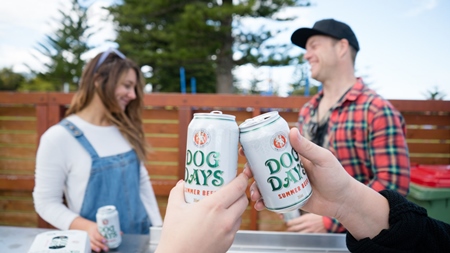 Russell Gosling, Head Brewer at Little Creatures Fremantle, reminds us of what this beer really tastes like: "The bright, peachy, juicy-fruit hop flavours marry nicely with the wheat malt. In terms of bitterness, it's firm, but not so intense that it overwhelms the light wheat character. That means you can expect bags of refreshment and a good whack of flavour.
"Over the last three years, people in Australia have been drinking more and more Summer beer styles, including Session beers and Summer Ales. The best news is these Summer styles aren't just for summer, and people are enjoying them year-round," said Russell.
Dog Days Summer Beer joins the Creatures gang of beers, available all year round for hopheads to enjoy.  For those of you curious about where the name Dog Days comes from, the Romans called the hottest, days of summer "dog days." The name came about because they associated these days with the star Sirius (known as the Dog Star), the brightest star in the constellation. Whether you're taking refuge in a shady park or getting sandy by the sea, the Dog Days call for good friends and even better beer.
Company Contact details
Website: www.littlecreatures.com.au
Facebook: https://www.facebook.com/littlecreaturesbrewing
Instagram & Twitter: @LtCreatures
Phone: 1800 308 388