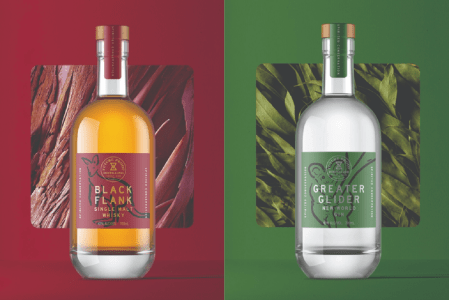 Fresh from winning Champion Medium Australian Brewery, Champion Victorian Brewery and two beer category trophies at the Australian International Beer Awards last week, Melbourne's Deeds Brewing have launched the Future Proof Distilling spirits brand.
Having installed a still at their brewery venue in Glen Iris and with liquor on-site in barrels for the last three years as part of their oak barrel programme, Deeds' spirits arm arrives with the Black Flank Single Malt Whisky as its first release while the Greater Glider New World Gin will follow in a matter of weeks.
With the Black Flank Whisky and Greater Glider Gin releases taking inspiration from vulnerable native species, Future Proof Distilling is also supporting WIRES – Australia's largest wildlife rescue organisation – with $1 from every bottle purchased going to the group. Furthering their environmental efforts, Future Proof will also give customers 10% off their next purchase when the bottle and stopper are sent back to their Glen Iris location.
The Black Flank Whisky takes its name from the native wallaby that, due to human activity and natural disasters, faces the threat of extinction. It's created from a single malt mash bill using saison yeast which is then matured in a blend of bourbon and red wine barrels. About the whisky, Future Proof said: "On the nose it has hints of caramel, fortified wine and vanilla aromas. Expect a taste of liquorice, grape, sherbet, orange slice and an orchid fruit. The whisky has a medium finish with crème brûlée and lemon tart notes".
Using a blend of macadamia honey mead and native botanicals, the gin is in tribute to the gliding possum population that is also in steep decline. "Expect bold juniper, rounded citrus and eucalyptus flower on the nose, with mountain pepper and spice rounding out the taste. Roasted wattle seed and cocoa give it slightly sweet and early finish."