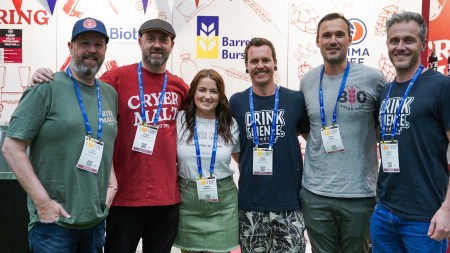 A week after announcing their partnership with Voyager Craft Malt, Australasian brewing and distilling ingredients supplier Cryer Malt has forged a new deal with yeast propagators Froth Technologies that will see them exclusively distribute the New Zealand company's liquid yeasts in Australia.
Founded by Kiwi craft brewing industry figures Ryan Carville and Simon Cooke, Froth have been offering a local liquid yeast product out of their custom built lab in Avalon, Wellington since 2018 in both traditional and innovative brewing strains.
In a media statement, Cryer Malt said the partnership will further bolster its existing range of yeast offerings.
"Furthermore, this union will also help showcase the innovative products Froth are producing across the ditch, to the local brewing market."
Co-founder Ryan Carville said: "One of the big drivers for what we do here at Froth Tech is our love of the brewing community. The passion, dedication, and camaraderie of this community is something we admire and work to nourish and support, and that is what we have been doing that here in Aotearoa for the last three years. The brewing community isn't limited by boundaries and borders, so we didn't want to be either."
Barrett Burston's director of sales and marketing Steph Howard added: "Froth Technologies are forward thinking and passionate about the products they produce. We look forward to welcoming them to our portfolio and being able to get their liquid yeast strains out into the breweries of Australia".