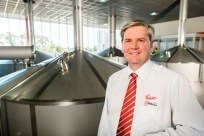 Coopers Brewery has entered 2015 on a high, boosted by record beer sales during the 2014 calendar year.
In the 12 months ended December 31, 2014, Coopers sold a record 77.3 million litres of beer, some 7.4 per cent higher than in 2013 when beer sales totalled 72 million litres.
The result means Coopers now holds about 5 per cent of the total Australian beer market, the company's strongest position in its 153 year history.
Coopers' managing director, Dr Tim Cooper, said the 2014 result had been driven by rising interstate sales and the contribution of Coopers' international beer portfolio. This represents 10.6 per cent of the total volume.
"Queensland recorded the highest growth for the year with sales up 14.5 per cent, ahead of Western Australia (12.6 per cent), Victoria (12.3 per cent) and New South Wales (6.6 per cent)," he said.
"Exports were also up 7.2 per cent as the impact of the falling Australian dollar begins to take effect. Sales in our home state of South Australia were steady."
Dr Cooper said that to maintain the sales momentum, Coopers and its distribution company Premium Beverages had recently employed another eight sales people around Australia. South Australia remained Coopers' largest market, with 25.8 per cent of total sales, just ahead of New South Wales with 25.7 per cent.
Dr Cooper said Coopers Original Pale Ale remained the brewery's flagship product and made up about 52.6 per cent of Coopers' beer sales. This was followed by Coopers Sparkling Ale (11.9 per cent), Mild Ale (7.3 per cent) and Coopers Clear (4.8 per cent).
Coopers' non-alcoholic beers, Holsten and Birell, which have also enjoyed rapid growth and Thatchers cider sales are not included in the results.
Coopers is currently in the process of installing an additional four fermenters, taking the total number at the brewery to 28. With the installation of these fermenters, Coopers is spending more than $4.5 million early this year, along with required changes to internal roads within the brewery to streamline truck movements and to cope with ongoing growth.
For the six months to December 31, 2014, Coopers' sales grew 5.1 per cent over the previous corresponding period.