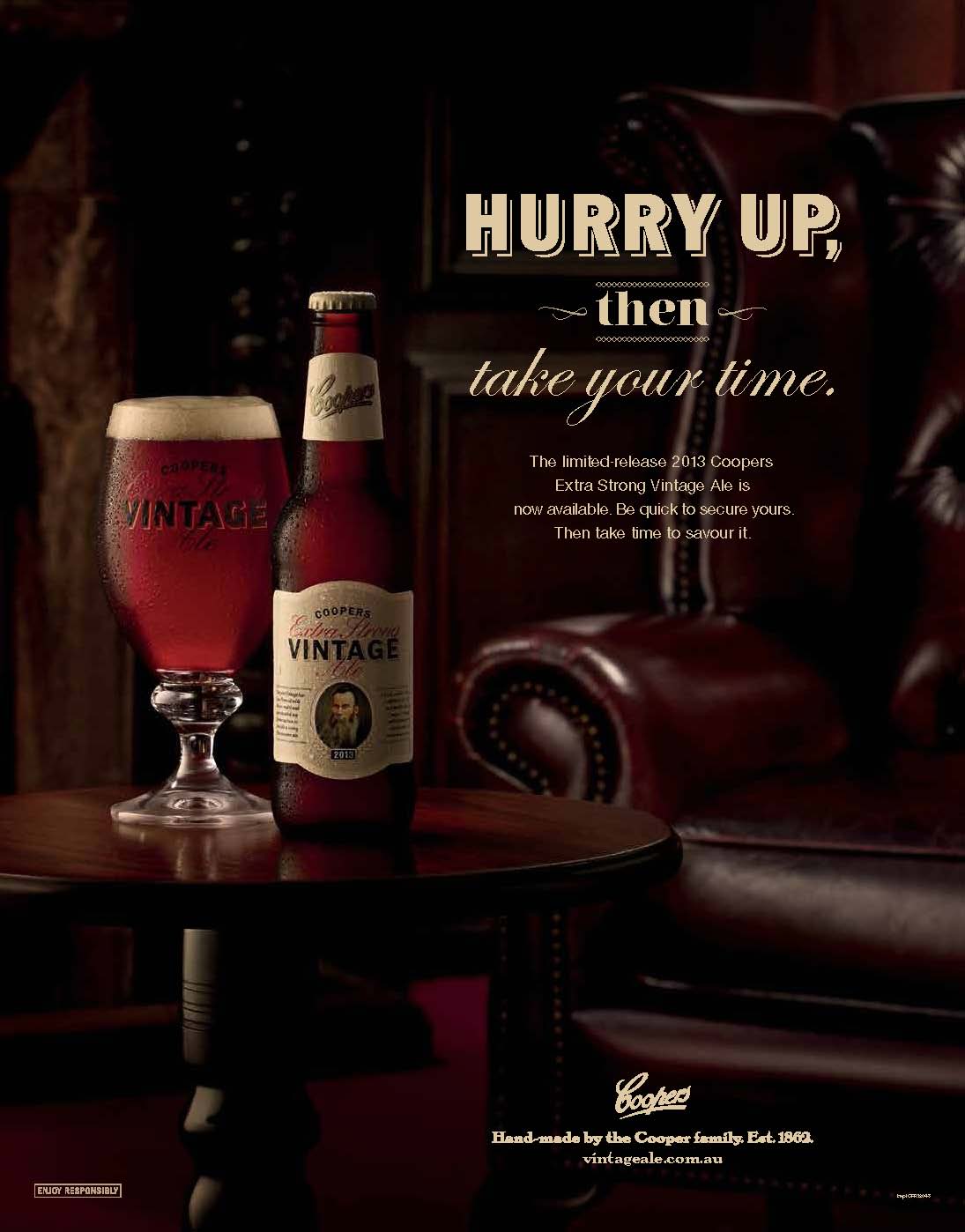 The 2013 limited edition Coopers Extra Strong Vintage Ale is all ready and set to hit the market on 5 July with a special launch and the Coopers Alehouse in Adelaide.
According to Chief Brewer Dr Tim Cooper, the yearly release of the Vintage Ale is a highly anticipated event, and that the release would be no different.
"Hops are at the heart of this year's Vintage, with Centennial, Chinook, Citra and Styrian Golding hops all being used," he says. "The intriguing combination of Centennial, Chinook and Citra creates strong citrus, grapefruit, melon, lime and passionfruit aromas, while Styrian Golding provides spicy and floral flavours."
The tasting notes that accompany this year's release points out that the first three hop varieties are commonly used "in strong ales like India Pale Ale, which require higher levels of bitterness, and also in beer styles such as Barley wines to balance the malty sweetness." And with the ABV remaining at 7.5%, this thirteenth permutation of the vintage promises to be as big as previous year.
To balance the big hop profile, Dr Cooper says that a combination of Australian malted barley, wheat and crystal malt was used.
"The result, upon pouring, is a balanced flavour of malt sweetness with a lingering crisp bitterness," he says.
The addition of the wheat malt is reportedly to not only enhance the creaminess of the head on the beer, but also to compliment the sharper nature of the crystal malt and increase drinkablilty.
Still the strongest brew in the Coopers portfolio, Coopers' National Marketing Director Mr Cam Pearce says that the 2013 Vintage Ale will again be on sale in a 355ml bottle – similarly the Celebration Ale is available in the slightly larger style bottle.
"As in previous years, we expect that limited production and high demand will see Vintage Ale stocks go quickly," he says.
This year, the release of the beer is accompanied by a recipe from MasterChef alumni Michael Weldon that uses the beer as well as matches with the brew upon serving.
The 2013 Vintage Ale will be priced from around $80 per carton, or around $25 per six pack.