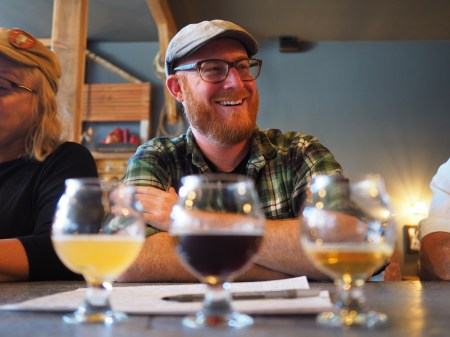 Chris Cohen, founder of the San Francisco Homebrewers Guild, also wrote the study guides for the first two levels of the Cicerone exams and runs craft beer bar the Old Devil Moon in San Francisco. He was in Australia for Sydney Beer Week in October last year, and we caught up with him for a chat.
Q: WHAT ARE YOUR THOUGHTS ON THE AUSSIE CRAFT BEER SCENE?
The Aussie beer scene seems to focus a lot more on sessionable beers. Our stuff is normally 7%. It's challenging to do a very flavourful beer with that low ABV. I've been impressed with Philter XPA; Wayward Pilsner and Everyday; Bucket Boys' Popsicle Gose; Wildflower Foudre #1.
Q: WHAT IS THE HOMEBREWING LANDSCAPE LIKE IN SAN FRANCISCO AND THE US?
Homebrewing in San Francisco is a real challenge, because most people live in apartments and we don't have garages and backyards to brew in and store things. East Bay, Oakland, Berkeley and further out, the scene is much stronger. Certain breweries are happy to host homebrewers to come and do stuff on their pilot systems. In the past it was homebrewers who were experimenting and influenced the pro brewers to try new weird things. Things that were working at homebrew level – the pros got down to it and ran with it. Now that a lot of homebrewers have become pro brewers and they're doing weekly releases and the industry is so trend driven, the pros now are maybe the ones who are pushing the envelope a bit more.
To me there are different types of homebrewers: there are the people who are experimenting constantly and not repeating recipes. And then there are the people who are more engineer minded, trying to dial things in and repeat recipes forever focusing on something really simple. One of the biggest issues I find still after so many years is people going overboard with flavours. I think subtlety is key for a beer to be great. Feature a flavour in a subtle way that brings something to the table without dominating it, so that there are layers.
Q: THERE HAVE BEEN A FAIR FEW INNOVATIONS IN HOMEBREWING. HOW ARE THEY PERCEIVED IN THE STATES?
Stuff like brew in a bag, a lot of apartment-dwelling homebrewers have embraced it. I think it's quite popular in Australia. I think Australian homebrewers really developed the techniques for that. But I've not heard of many people embracing all in one brewing systems. I don't know if I'm biased but my impression is it removes a big part of the DIY aspect of homebrewing that is a really big part of why people do it. If you don't want to do the DIY part, you just buy good beer, right? Homebrewers will take certain aspects of the DIY out of the process if they think it will increase the quality of the beer, but if you're not actually having a brew day, then you're just putting stuff in a blender, I guess. It doesn't strike me as fun.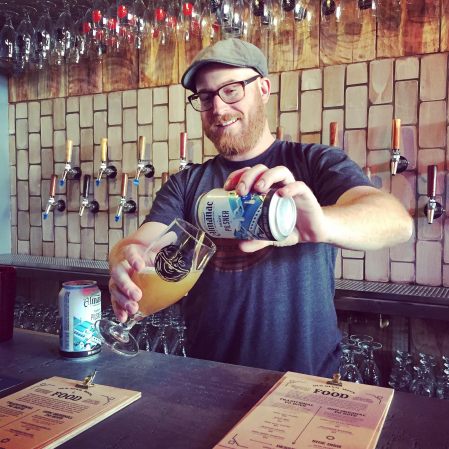 Q: WHAT ABOUT NO SPARGING?
If you're staying scientific and taking your measurements you'll come to conclusions: I don't need to sparge this for an hour. I can run it off for 15 minutes and I'm still going to get the gravity I'm looking for. So why wouldn't I go for it? In homebrewing there are all these levers you can move, you can change these measurements here and there and as long as you have it all dialled in and you know how your system works you can play with them.
I think homebrewers are super innovative and creative, reassessing techniques that are considered so much part of the process that people don't question them. You start to wonder 'does it really need to be done that way? Can I save myself an hour by not chilling? Or can I make a lot more?' Worse case scenario I wasted half a day of my life and like $50 on supplies. As a pro, you can't necessarily take those risks.
Q: WHAT NEW INGREDIENTS ARE YOU SEEING?
Homebrewers are always pulling anything out of the ground they can find and trying to make beer with it. One thing I've been seeing in Bay Area is pluots – plum apricots.
Pete Slosberg, he's kind of a guru on the scene, he's been going to Brazil and working with the craft beer scene down there. He gets in the mail all these interesting fruits and barks and woods and plants for the express purpose of experimenting with beers. I don't know if it will be a trend but there are a whole bunch of fruit and vegetables and trees that create flavour profiles that we don't have in the US or Aus. So going after foreign ingredients like that might be a thing as craft brewing blows up in places like Brazil. We're going to hear about it and we're going to want it.
Q: WHAT HAS INTERESTED YOU THE MOST IN RECENT MONTHS?
Kveik yeast. It's a whole bunch of yeast strains from Norway that are a blend. They come from Norwegian farmhouse ales. When you hear the term farmhouse you think saisons, but as a descriptor it really means people out in the countryside making beer with whatever they have. This whole farmhouse brewing scene in Norway has been getting a lot of attention. They have these domesticated yeast strains that they've been passing down for generations that most pro brewers have never had available. One thing the regions do is use a lot of juniper, and with the popularity of kviek yeast, I think we'll see people play with juniper more.
I have this gut feeling that the water doctrine of this yeast type could change the industry a little bit because it ferments fast and furiously at 40°C, which is completely insane. You can ferment at 100°F and get your ferment done really quickly, and you'll get plenty of esters. You'll get orangey, citrusy, fruity characteristics which would go perfectly with hazy IPAs. So if IPAs are your main thing, if you started using this maybe your capacity goes up.
Q: FINALLY, TELL US A BIT ABOUT THE CICERONE PROGRAM?
Cicerone covers a whole different group of areas of knowledge like styles, service, draught systems and cleaning, glassware, food and beer pairing, identifying of flavours. What it really helps a person do is learn the language that will help them talk about beer in a way that will sell it. When you learn that language and you have that confidence and you understand what these flavours are, it is a lot more convincing. I think education around beer is critical. Because it has that everyday, blue collar [association] it's considered some kind of lesser beverage, but there's so much going on with it. Learning about it doesn't make you appreciate it less, it makes you appreciate it more.
For more content like this, subscribe to Beer & Brewer magazine here.