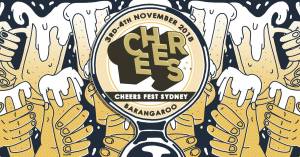 Cheers Fest has announced the brewery line-up for its event in Barangaroo Reserve this November.
Over 200 craft beers and ciders from 43 independent breweries across Australian and New Zealand will be on offer at the inaugural festival, which runs from 3-4 November, the final weekend of Sydney Beer Week, with which Cheers Fest is aligned.
"I went to see brewers about it and was blown away by the support I got," says Chris Navin, director of Cheers Fest who formulated the idea for the festival following travels around Europe and seeing the beer festivals that take place there. "My idea is to work with the brewers and treat them like a partner. We've asked them to make collaboration beers and new releases."
A custom-made map will highlight where the breweries involved are located so people can see where they beer they are drinking comes from. In addition there will be more than eight gourmet food vendors, with beer and food pairing recommendations included on a menu for attendees. Pizza by Pietro is also designing a custom menu for the festival. There will be a bar for wine and cocktails.
Two tasting sessions will be held on Saturday, with two more scheduled for the Sunday as well. Live music will be provided by Scott Shepherd, principal of music company Music Mates. As well as new launches and collaborative beers, Cheers Fest intends to focus on beer art.
"We want to push beer art as well," adds Graham Starr, head of marketing for Cheers Fest. "That plays a big part in beer – people enjoy the artwork. We got a featured artist – the Nomad Brewery artist – and she has done all the artwork for Cheers. We'll rotate with other artists as we go along. It's just another way to highlight another part of the industry. There's a lot of work that goes into the making of beer – the art and the farmers in the field. We want to highlight that to show people what else goes on in the background."
The charity Lifeline Australia is also on board with the festival, with some of the entry fee going to the charity.
For more information visit the Cheers Fest website.
BentSpoke
Capital
Fixation
The Bucha of Byron
Coastal
Welders Dog
The Apple Thief
Pioneer
Akasha
Stone and Wood
Endeavour
Frenchies
Lord Nelson
Riverside
Hairyman
Sauce
Shark Island
Staves
Willie the Boatman
Young Henrys
All Hands
Garage Project
Epic
Kereru Brewing
Granite Belt Treehouse
Aether
Green Beacon
Balter
Pikes
Prancing Pony
Clare Valley Brewing
Van Dieman
Franks Cider
Bridge Road
Hawkers
Kaiju
Ocean Reach
Mornington
3 Ravens
Holgate
Brick Lane
Hop Nation
Gage Roads