Normal
0
false
false
false
MicrosoftInternetExplorer4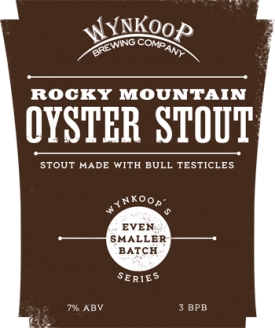 Inspired by their own April Fools Day Joke, a Canadian brewery has created a
beer that utilizes a local delicacy: fried bulls testicles.
Colloquially known as Rocky Mountain Oysters, the odd ingredient has been raising
eyebrows as news of the brew spreads across the internet. However, the Wynkoop
Brewing Company brewers maintain that the beer only came about because people
believed the spoof video and began to request samples.
Clearly no ones to pass up the opportunity for a good pun, the head brewer
Andy Brown was quoted on the Wyncoop blog saying "We've been making ballsy beer
for the past few years and this is great proof of that."
The brew is made with seven specialty malts (including special B and smoked
malt) and Styrian Goldings hops, along with a dash of sea salt. "It gives the
beer an extra layer of Rocky
Mountain oyster flavor," says
Brown. "And additional texture."
The very small batch of eight barrels also includes 25 pounds (that's
approximately 11 kilos) of bull testicles that have been sliced by hand and
then roasted before being added to the mash.
According to the official tasting notes, the brew is "an assertive
foreign-style stout, slightly viscous, with a deep brown color. It has equally
deep flavors of chocolate syrup, Kahlua, and espresso, along with a palpable
level of alcohol and a savory umami-like note. It finishes dry and roasted with
a fast-fading hop bite."
The beer is also 7% ABV and has 3 BPBs (balls per barrel).
st1:*{behavior:url(#ieooui) }
/* Style Definitions */
table.MsoNormalTable
{mso-style-name:"Table Normal";
mso-tstyle-rowband-size:0;
mso-tstyle-colband-size:0;
mso-style-noshow:yes;
mso-style-parent:"";
mso-padding-alt:0cm 5.4pt 0cm 5.4pt;
mso-para-margin:0cm;
mso-para-margin-bottom:.0001pt;
mso-pagination:widow-orphan;
font-size:10.0pt;
font-family:"Times New Roman";
mso-ansi-language:#0400;
mso-fareast-language:#0400;
mso-bidi-language:#0400;}