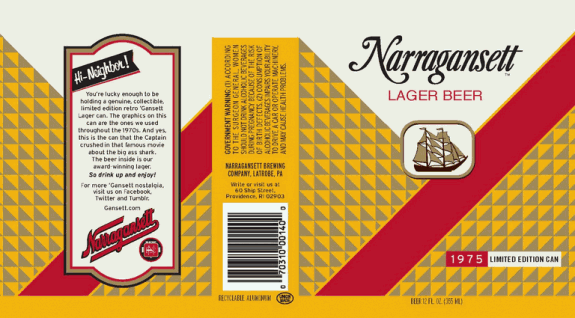 Beer collectors start your engines: Narragansett Beer has announced the debut of a specialty retro Lager can that harks back to the 1970s, with all 18-packs of 12oz. cans of Lager featuring the same design and logo that fans enjoyed in 1975.
Why is that cool? Well, Narragansett is the beer of choice in Jaws – the movie that made everyone afraid of what lurked below the waves.
In the film, Captain Sam Quint, played by Oscar-nominated actor Robert Shaw, famously crushes a can of Narragansett Lager to intimidate Richard Dreyfuss' character, Hooper. This iconic scene solidified the brand's reputation as the beer of choice for everyday New Englanders and continues to captivate viewers today.
The limited-edition retro can is available for purchase throughout New England, USA, but there are sure to be more than a few flying around elsewhere for international collectors to get a piece of the action.
Quint crushing his Narragansett can in that fateful scen

e
in Jaws