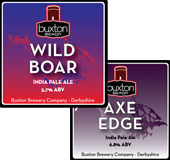 From March Buxton's extremely well-loved Ales will be available in Australia.
The range being brought out has not one beer that has scored less than 90 on rate beer – in fact two of them are currently on 99 – and includes their IPA and Black IPA range.
Don't be put off by the traditional English style labels, these brews are reputedly very addictive and will be shipped in both bottles and kegs.
The beers on offer will be (including their rate beer score for reference):
Axe Edge IPA 6.8%RB: 99/100
Wild Boar IPA 5.7%RB: 97/100
High Tor Indian Red AleRB: 93/100
Black Rocks Black IPARB: 98/100
Imperial Black Imperial Black IPARB: 99/100
Buxton Spa Special Pale AleRB: 91/100
Moor Top Pale AleRB: 92/100
Contact hopheads@birraitaliana.com.au for more info on where these beers can be tracked down.