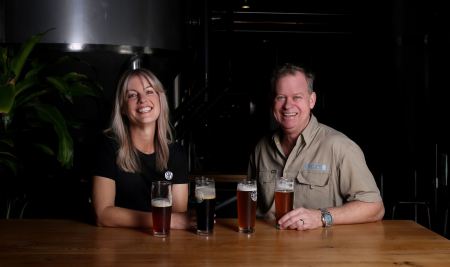 Since founding as a pioneering Queensland independent craft brewery Burleigh Brewing have, in one way or another, been in a constant state of expansion as they've grown to keep pace with the demand for their multi award-winning beers.
From starting out in 2006, founders Peta and Brennan Fielding (pictured) would oversee multiple expansions at their original Burleigh Heads location, where they went from occupying four industrial units to 11. Then, in 2014, they made the decision to move a few hundred metres down the road to their current Ern Harley Drive site which has enabled the ongoing evolution they've experienced since.
But in this, their 15th year, where they've already tasted the major highs of winning the AIBA for Champion Australian Pale Ale with their Twisted Palm Tropical Pale Ale, Peta said their latest plans are a "particularly big step" in the overall scheme of their planned future growth. She said she's still "pinching (herself) at the thought that it's actually happening".
Now occupying an acre of under roof real estate and employing 80 people, Burleigh's current expansion includes branching out in to another building, installing their third brewhouse to further boost capacity to over 10 million litres, as well as new fermentation tanks and a dedicated cold storage facility for their packaged beers. They originally had such a facility when they started at Ern Harley Drive but it was sacrificed to make way for previous expansions of their production.
"Fifteen years – it's a bit crazy. Where has the time gone?" Peta told Beer & Brewer. "Since we started we've been constantly growing, but this is a particularly big step overall. It's very exciting. We are in the midst of a multi-stage expansion across all areas of operations, including brewing, cellar and packaging.
"(This) current phase will take our capacity to 10 million-plus litres. On the brewhouse side, we have built up from a single 50-hectolitre system to a twin 50-hec system to now a further bespoke twin system of 50-hec on one side and 100-hec on the other. The system is designed to allow for our further planned expansion to twin 100-hec plus 50-hec brewhouse capacity.
"For this to happen, we have been intimately involved in the design of the overall system and the individual elements and have used a combination of made-in-Germany, made-in-Canada and made-in-Australia suppliers. Pretty much nothing is 'off the shelf'!
"Our mission has always been to create a genuine choice in beer that didn't exist on the Gold Coast or Queensland or even in much of Australia, back in 2006. We didn't know if we'd survive the first couple of years. We focussed on quality and making customers happy – one taste bud at a time… We are continuing to invest in our long term future."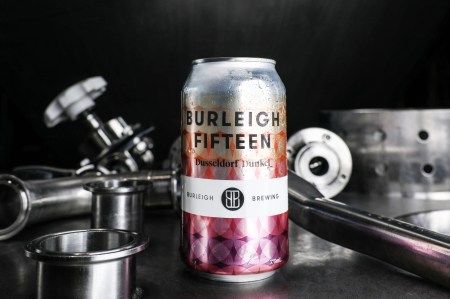 One aspect of their recent growth has been the establishment this year of their Brewers' Notebook series of limited batch beers, where the first instalment was the Burleigh Hop Nectar Juicy IPA. Now, to help mark their 15 year milestone, Burleigh have released the second in the series – the 15th Century-inspired Burleigh Fifteen Dusseldorf Dunkel (6.0%, 375ml).
Originally unleashed at this year's GABS Festivals, all of Burleigh Fifteen's ingredients have been sourced direct from Germany, including the hops from the Hallertau growing region in Bavaria, giving the smoked ale a traditional spicy noble hop character. Heritage is maintained in malt sweetness and a smoky, lingering back-end. It has a mellow depth of balanced toffee/nutty sweetness surrounded by a whiff of earthy campfire before a crisp, light finish. It's a cracking Dunkel.
"Dark lagers, which came to be known as Dunkel, grew in popularity in the 1700s. But in the 15th Century, towns like Dusseldorf were brewing malty, smoky ales. Burleigh Fifteen is a nod to those times," Brennan said. "Compared with a modern Dunkel, you'll find slightly more body and sweetness, with just the right amount of hops to balance out the experience."
Burleigh Fifteen is out now. Head here for more information.
Burleigh are also currently running a competition to win their entire new Winter merch collection.