Burleigh Brewing Co has teamed up with local artist Deadwood Creative to craft a unique tap handle built from recycled skateboards.

Over 20 million skateboards are sold each year worldwide, and over 2 million broken skateboards end up in landfill each year.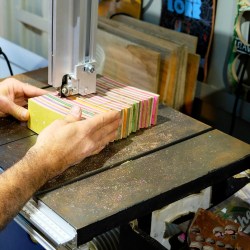 Deadwood Creative spent months collecting broken skateboards to create a tap handle perfect for beer pouring. It takes a single skateboard deck to create a Burleigh Brewing tap handle.
"Burleigh Brewing is built upon a deep sense of community and local pride," comments Peta Fielding, CEO and director of Burleigh Brewing. "We know how amazing it is to live our passion every day and we are motivated to do our little bit to celebrate – and even help – other locals living theirs.
"The Deadwood Project is a perfect way of bringing that to life while showing kindness to our environment at the same time. We've been thrilled to make it happen."
The brewery has also recently launched Burleigh Mid-Tide, a session IPA with a 3% ABV  and an IBU of 20.