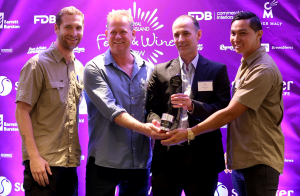 For the second time in its history, Burleigh Brewing has won the 2019 Grand Champion Beer at the Royal Queensland Food & Wine Show.
Its limited release Burleigh Bock was announced as the overall champion as over 340 submitted beers from 48 breweries were judged at the show. The beers deemed to be the best in the eight individual categories were pooled together for the final tasting to determine the Grand Champion Beer for 2019. Burleigh Bock was named Champion Strong Beer.
"Burleigh Bock was fantastically malty and had great complexity of flavour and was deemed to fit the style very well, demonstrating finesse," the judges said.
As well as the Grand Champion Beer status, Burleigh Brewing was also awarded a $5,000 education bursary prize for the opportunity to develop a beer educational experience.
"It takes a village to raise a child, it takes an entire brewery to make a great beer," says Brennan Fielding, founder and master brewer at Burleigh Brewing. "We are honoured to receive this award for a second time and congratulations to all those who entered. We make a lot of great beers and Burleigh Bock is definitely a stand out."
Burleigh Bock was first released as an exclusive brew for the most recent Beer InCider
festival held in Brisbane on Saturday 9 March. It has a 6.7% ABV.
The category trophy winners for 2019 were:
Champion Pale Ale: Hornet IPA (draught) from Black Hops Brewing
Champion Hybrid Beer: Oaked XPA (draught) from Ballistic Beer Company
Champion Lager: Lovedale Lager (draught) from Sydney Brewery
Champion IPA: Code Red (packaged) from Black Hops Brewing
Champion European-style Ale: Kristal Weizen (draught) from White Lies Brewing Company
Champion Session Beer: Balter Captain Sensible (packaged) from Balter Brewing
Champion Strong Beer: Burleigh Bock (draught) from Burleigh Brewing Company
Champion Mixed Culture Beer: Raspberry Beer (draught) from White Lies Brewing Company
Black Hops Brewing was named Champion Brewery and Champion Queensland Brewery, while Bacchus Brewing Company won the Champion Beer Utilising Desalinated Water with its Belgian Mocha Stout (draught).