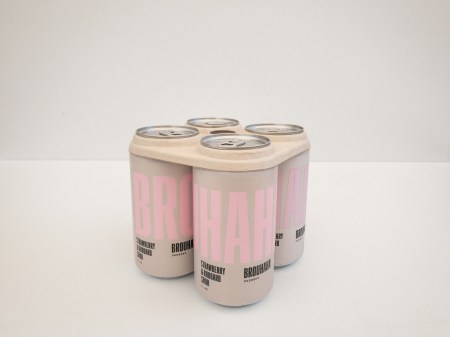 Brouhaha Brewery has become the latest Australian craft brewery to reject plastic beer rings in a bid to reduce waste.
The Sunshine Coast-based brewery's "New Year's Resolution" kicked off on 1 January, with the brewery replacing all of its plastic can-carriers with BioPak's BioCane beer can rings.
"This simple change will mean that we remove more than 90,000 plastic beer ring carriers and replace them with a renewable, recyclable and compostable alternative," the brewery says in a statement.
"As a planet, we have produced more plastic in the last 10 years than during the whole of the last century. Every minute, one garbage truck of plastic is dumped into our oceans, which totals to 8 million metric tons of plastic waste escaping into the oceans each year."
The new beer rings are made from reclaimed sugarcane pulp, a byproduct of the sugar refining industry. They can composted in a home compost bin or through the Australian paper recycling stream.
It is described as a product that is "extremely durable, lightweight and biodegrades in 30-90 days".
"We try our best to reduce waste wherever we can and do our part to add to the circular economy," the statement from Brouhaha continues. "Our spent grain is a waste product from the brewing process. Rather than dumping this into landfill, we have partnered with a local farmer, Ken from Maleny Waygu, who uses the spent grain to feed his cattle.
"Ken is a hobby farmer and only supplies his beef to Maple Street Meats and our kitchen at Brouhaha Brewery. Each month, our chefs purchase a whole cow from Ken and use a zero-waste, nose to tail cooking ethos. Maleny Wagyu is used to create our steaks, burgers and sausages, as well as our stocks and some adventurous daily specials, like pan-fried liver and heart skewers.
"These are small steps, but we believe that they are in the right direction to make our world a better place."