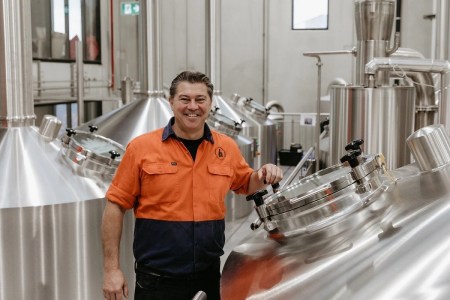 When Brick Lane launched in 2018 the goal was to build a long-term sustainable business. Now, with a growing portfolio and third-party deals driving scale, the brewery has maintained that journey by installing a 375kw solar project.
The solar will supply 27 per cent of Brick Lane's energy requirements and save 374 tonnes of annual CO₂ emissions. As their managing director Paul Bowker (pictured) told The Shout, this is part of the brewery's commitment to achieving "true zero" brewing by 2025.
"We opened the doors to our Dandenong Melbourne facility in August 2018 and we approached the brewing space a little bit different to most, in that we wanted to build a long-term sustainable business. In order to do that we set about putting in place a five-year plan from day one, which was to build a flexible, scalable brewing facility that had sustainability at its core," Paul said.
And while this did present some challenges for the business in terms of having to spend capital well ahead of the return they were getting on it, Brick Lane is now able to achieve some of these challenging sustainability targets because it has always been part of the business model, as Bowker explained.
"The ability to create the type of sustainability that we have got within the business, was made easier in a sense because that was a core principle from day one.
"That includes everything. We've just turned on the solar project and when we designed the building five years ago, every part of the building was designed to include all the reinforcement to carry a solar system of that size on the roof.
"We did all these things up front, which came at a cost and a risk, but what it's meant is as we've progressed through the expansion of the brewery, we're now able to leverage off all that hard work that we did up front.
"Solar is just one example. There's smart projects around how we manage trade waste, how we manage refrigeration and energy loads, through to other parts of the business. We've just launched a complete logistics warehousing storage side to our business and that takes a huge amount of trucks off the road because we are not going through third parties, we can go straight to national retailers out of here."
And just making tweaks to the way things are done, looking through processes with a different lens is helping Brick Lane continue on this road. Paul Bowker said the brewery has reached an agreement with packaging company Orora which sees them deliver cans that are not wrapped in plastic, which has eliminated large amounts of plastic from the brewery.
Other projects include removing freon gases from the brewery and running an ammonia chiller, which is possible because the brewery is running 24/7, installing a CO₂ vaporiser allowing recovery and conversion of CO₂ and even installing a free electric vehicle recharging station for staff to use.
The solar project was always part of the plan as well, but only started to become a reality about a year ago.
"The reason we have just turned it on now is because we've got our original 5,000 square metre brewery building, and then about 12 months ago we took over an adjacent warehouse, and that was part of the long-term thinking around the solar – making sure that when we installed solar that we maximise the return in energy.
"It was also a good time for us because we're now hitting peak production running 20 million litres a year through the brewery and with a solar system of that size we use everything it generates."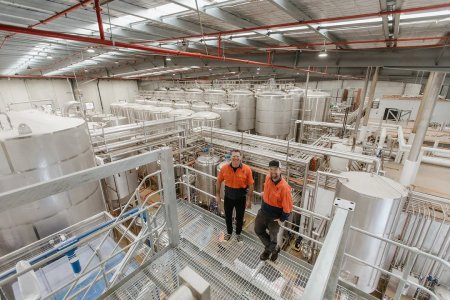 While Brick Lane has already achieved some impressive targets, Paul (pictured above with head brewer Jon Seltin) said it will carry on.
"To be a good corporate citizen you have to have sustainability at the core of everything you do and that flows all through our business. Whether it's through procurement, processes of manufacturing, supply chain, moving stock around, staff ethos, our values it is built into everything.
"We just received B-Corp accreditation and that was hugely important for us, and it shows that our entire business, end-to-end, through the staff, has sustainability factored into decision making."
And that will continue with the drive towards 'true zero', as Paul explained: "There's a path to zero for any business, through adjustments you can make on site through to acquiring credits, and that's one way and any business can do that overnight.
"Our philosophy is that we think there's enough smarts in what we've built in some of the technology we are investing in, that we can actually be true zero on site, and that we can be zero by 2025, without the need to buy credits. That's a pretty ambitious goal but it's one that, when you've got the ambition and the goal out there, it drives innovation internally as well as externally and we are confident we'll achieve it."
This article originally appeared on our sister site The Shout. Subscribe to their newsletter here.