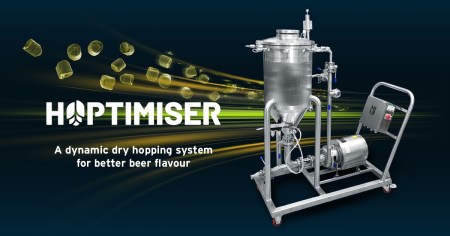 Brewing equipment company Brewtique and Hop Products Australia (HPA) have launched the Hoptimiser – a skid-mounted dry hopping system that aims to optimise flavour while keeping any undesirable character to a minimum.
The system features a pressurised container that feeds hop material into the beer stream before passing through a macerating pump. The resulting interaction with fine hop particles facilitates the uptake of key hop flavours while minimising astringency and hop burn.
Brewtique's managing director Gavin Troxler said: "After a number of iterations and improvements over the past 12 months, we've developed a really efficient and effective system. It can help brewers increase their lupulin utilisation by up to 25% and considerably accelerate tank turnover times. Not to mention it removes the need to work at heights."
The Hoptimiser was developed in collaboration with HPA based on the latest research in maximising hop flavour in beer. HPA's head of sales and marketing Owen Johnston said: "We listened to the challenges our brewing customers are facing, both big and small, when dry hopping. This skid-mounted system has everything they need to dry hop their beers safely and easily."
Merino Brewery's head brewer Tim Howard, who helped conduct extensive testing of the system, added: "Safety is always the number one priority working in a brewery. The Hoptimiser eliminates the risks associated with carrying kilograms of hops to heights or hop volcanos wasting litres of precious beer."
Using the dynamic system, Tim was able to increase aroma terpenoids at a faster rate, and the accelerated recirculation times kept astringency and dry hopping rates down.
"For my brewery, which currently doesn't operate a centrifuge, the macerated hop particles reduced residency time due to better flocculation," Tim said.
"The Hoptimiser has proven to be a great addition to the brewer's toolkit, improving safety and quality, as well as reducing beer loss."
Brewtique and HPA will unveil the Hoptimiser at BrewCon next week. Hop over to stand 41 or stand 101 at the Gold Coast Convention and Exhibition Centre on the 22nd or 23rd of August to check it out.
This is an edited version of a media release distributed by HPA and Brewtique.