13th April 2011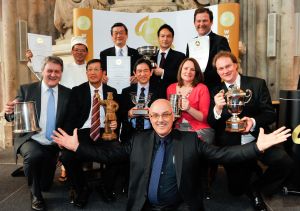 The Brewing Industry International Awards 2011 culminated in a celebration at London's Guildhall today when nine beers from across the world took the competition's ultimate accolade of Champion Beer.
The ceremony, attended by 400 people, sealed the triumphant return to the UK of the Awards, widely termed the 'brewing Oscars', after a six-year absence. The winning beers are the best in nine categories, as judged by the panel of experts who spent three days in Burton-upon-Trent assessing 800 beers in February this year. The Champion Beers were selected from the Gold medal winners in each category. Today, all eighty-six Gold, Silver and Bronze winners, announced in February, were given their medal, before the overall champions were unveiled and presented with their trophy.
Bill Taylor, chair of judges, said, "It feels very good to have reached the end point of the Brewing Awards 2011, knowing that we have achieved our ambition to put the competition back where it belongs at the heart of the international brewing community. Not only did we exceed the number of entries received for the 2005 event, we also received tremendous support from our sponsors, from brewers, trade associations, publications and others around the world, who made the event not only possible, but a huge success."
Ruth Evans, chief executive of competition organisers Brewing Technology Services, added, "The industry's enthusiastic response is a testament to the Awards' unrivalled reputation, built up over the 150 years since the first competition and based on its robust judging process which ensures that the winners are truly the best beers in the world. It is good to see the Awards restored as a 'must enter' for brewers around the world – who should now be marking February 2013 for the next event."
The Champion Beer winners are:
Champion Smallpack Lager: Bintang, Multi Bintang Indonesia (Asia Pacific Brewery)
Champion Smallpack Ale: Sierra Nevada Pale Ale, California
Champion Keg Lager: Asahi Super Dry, Asahi Breweries & Shepherd Neame, Faversham, Kent, UK
Champion Keg Ale: Jaipur IPA, Thornbridge Brewery, Bakewell, Derbyshire, UK
Champion Non and Low Alcohol Beer: Mann's Brown Ale (bottle), Marston's, Burton-upon-Trent, UK
Champion Dark Beer: Samuel Adams Cream Stout (bottle), Boston Beer Co, USA
Champion Strong Beer: Double Strong Beer (keg), Myanmar Brewery, Yangon, Myanmar
Champion Speciality Beer: Shirayukichoujugura (Snow Blanche) (keg), Konishi Brewing, Hyogo, Japan
Champion Cask Conditioned Ale: Orkney IPA, Highland Brewing, Orkney, UK
Taylor commented, "Today we have given trophies to brewers from four of the five continents, and medals went to beers from 17 countries. No other major competition achieves quite this level of international participation and we look forward to receiving the same global response when we open entries to the Brewing Awards 2013."
The 2013 competition will be held again in Burton-upon Trent, 13th – 15th February.
Entries open on 1st August 2012. For more information, visit www.brewingawards.org