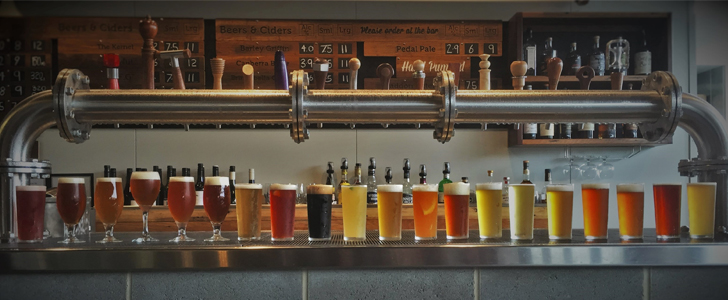 Best known for fireworks, porn, roundabouts and politicians (perhaps not in that order), Canberra also has a strong craft beer and home brewing scene that has been bubbling away for years. With two new brewers hitting the scene within the past year and a half, we look at this burgeoning craft beer haven in the latest issue of Beer & Brewer.
Australia's capital city, Canberra, the political centre of the nation is probably not where you would expect to find creative types pushing boundaries. However, this political den has been brewing some of the country's most exciting beers for years and with two new brewers recently launching, the local craft beer scene is expanding quicker than Clive Palmer's waistline.
The Australian Capital Territory (ACT) may well be Australia's beer capital per capita, with an impressive six players for the roughly 400,000 population. The brewers include; BentSpoke Brewing Co., Wig & Pen Brewery, Zierholz Premium Brewery and Tortured Gum Brewery, as well as gypsy brewers Pact Beer Co. and newbie Capital Brewing Co.
However, it's not just commercial brewers who populate Australia's smallest territory, with a thriving home brewing scene driven by one of the country's most prolific home brewing clubs, the Canberra Brewers. The local home brewing scene was also bolstered last year when the Australian National Homebrewing Conference (ANHC) was held in Canberra (the first time it's been held outside Melbourne). It is this passionate home brew scene that is deeply intertwined with Canberra's beer scene, with all of the local commercial brewers coming from a home brewing background.
BentSpoke Brewing Co.
Arguably Canberra's most famous brewer is Richard Watkins, a former champion home brewer who brewed at the Wig & Pen for 17 years before setting up his own brewery, BentSpoke in Braddon.
"The beer scene in Canberra has evolved considerably since 2000 there are a lot more places with great ranges of beer on tap," explained Watkins. "Obviously there are lots more breweries around Australia now offering patrons interesting and well-made products. We are still a long way behind the US and even NZ."
After a killer first year that saw BentSpoke produce a whopping 160,000L, 31 different varieties of beer and pick up several awards, including Best New Venue at the 2015 Australian Hotels Association ACT Hospitality Awards, the brewery continues to grow. Celebrating its second birthday last month (June), BentSpoke marked the occasion with the opening of The Cannery, a canning facility and venue in Mitchell.
"The journey has been incredible. I can't believe how much beer we have sold! Canberrans' parochial nature of all things local has certainly helped us," said Watkins. "The Cannery is progressing well. We hope to have cans full of beer and the venue open this month. The venue will cater towards the workers during the week and families on the weekend all while watching a production brewery in operation."
Watkins is also famous for inventing the Hopinator, a bar-top beer infuser, which allows the venue or brewer to change and experiment with the flavour of a beer after it has gone through the fermenting process.
"I came up with the design for the Hopinator 15 years ago as a way of allowing patrons to experience different flavours in beer without having to brew a whole batch. I've sold a few around Australia now to breweries and good beer venues," explained Watkins. "One of the best combinations is cumquats, cinnamon, nutmeg and truffle with an English-style old ale. A true winter warmer!"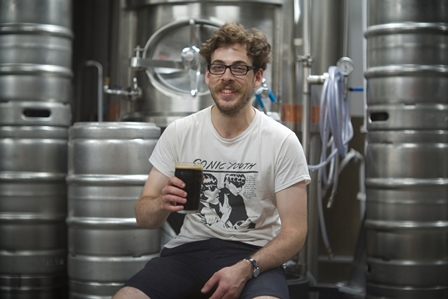 Wig & Pen Brewery
Of course it was at the Wig & Pen where Watkins spent 17 years honing his craft. While the brewery faced an uncertain future a few years ago, it has a new home at Llewellyn Hall in the Australian National University (ANU) and a new brewer in Frazer Brown. Born and bred in Canberra, Brown started home brewing when he was 18 and still brews his pilot batches at home on a three vessel electric system he built from scratch.
"Our range is a mixture of standard and more-or-less traditional beers from primarily the old world and the States, mixed thoroughly with unusual or under-appreciated styles, with a splash of things that I just wanted to try out (whether for my own or for the public's benefit)," Brown said. "At the moment my favourites are kettle sours, I love the simplicity of the method and the variability of the result. I always like making beers at either end of the bigness spectrum as well, either massive chunky booze-bombs, or gentle, sessionable mid-strengths. Each has their charms and their traps, I find."
Quite fittingly for a brewer based in a university, Brown is a big fan of learning new things and experimenting, and has created some exciting new beers for the Wig & Pen such as the Game of Thrones sounding, King of the North.
"I'm not afraid of a bit of a gamble when trying new things, nor of trying the unfamiliar. Pushing the boundaries of comfort is kind of important to me and I think trying things is also very important," explained Brown. "The King of the North is a big, chewy imperial northern brown ale with strong dried fruit and spicy flavours, like a Christmas cake, rounded out with a bit of boozy alcohol warmth. It's a hearty winter beer."
No doubt ANU students have never been happier.
Zierholz Premium Brewery
Joining a colleague for a trip to a local homebrew shop back in 2001, would be a fortuitous decision for Christoph Zierholz. A home brewing dabbler while at university, it was during this trip that Zierholz would see a brewing demonstration about German wheat beer, igniting a passion for beers from his heritage. Inspired, Zierholz decided to home brew a weizenbock, which would go on to place in the Homebrew Nationals.
"By 2004 I had won the State Championship three times and the nationals twice, but more importantly one local competition entry (a Belgian golden strong ale) was judged by Rich Watkins, who at that time was brewing at the Wig & Pen and asked me if he could use the recipe for a winter seasonal at the Wig," explained Zierholz. "Rich generously let me come along on the brew day to 'assist' in the process, meaning I did my best not to get in his way. The Bro Humus Golden Ale was consequently put on tap at the Wig and received positive feedback."
Zierholz then decided to take the leap into commercial brewing and founded Zierholz Premium Brewery.
"Ten years ago is when Zierholz was founded. Back then, as a one-man operation I found that when I didn't have my brewer or beer delivery guy's hat on and was in salesman mode, I would be talking to the bar managers in the hope of securing a tap that was the token one available and in essence was competing with Coopers as the 'other' non-mainstream producer. Pretty much every bar or club seemed to be in a contract with the big two, with the exception of a few small local establishments," said Zierholz. "Now, many newer establishments stock different beers (and ciders) and tend to rotate them more often. It's a great thing but the craft beer industry needs to make sure we don't alienate customers and invest in training bar staff to help guide customers onto a brew that they are likely to enjoy rather than create a hit and miss type environment."
While the brewery is still a modest operation, Zierholz is looking to expand over the next year.
"Last year I secured the service of Marcus Muller, a graduate of the famed Weihenstephan Brewing University in Bavaria and originally native to Cologne to take over brewery operations. This has freed up my time to work on the brewery expansion and addition of packaged product to our range," explained Zierholz. "We love all types of beer, provided it's well-made and suits the occasion of course, but for our label we're likely to continue with traditional German styles as the norm and brew other ones more as seasonal specials. In line with our product range, I love to make beer (or nowadays 'have made') that don't try to be the centrepiece of the conversation, rather be there in just the lubricant of it: simple ales and delicate lagers."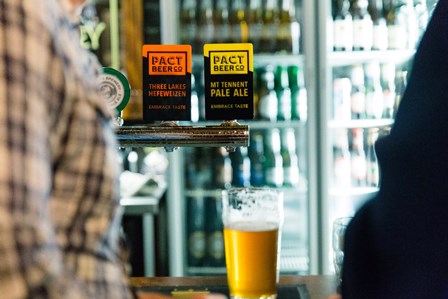 Pact Beer Co.
Not many people decide to grow hops "just for fun", but for Kevin Hingston this seemed like a good idea back in 2012 while he expanded his palate "beyond 30 packs of VB cans".
"I joined the Canberra Brewers club and tasted every new beer I could get my hands on. I took this attitude into my brewing, too. I think I was home brewing for over two years before I ever made the same recipe twice!" explained Hingston.
The venture was a fruitful one for Hingston, who picked up the biggest gong for an Australian home brewing newcomer, just two years after first turning his hand to it.
"Picking up the Australian Amateur Brewer of the Year at the National Homebrewing Conference dinner in 2014 was a huge moment for me. I'd put the better part of a year into organising the conference, and of course brewing those beers, and it was a really nice way to put a full stop on all of that," said Hingston. "It was pretty hard to keep the smile off my face, receiving the award from Vinnie Cilurzo from Russian River, before getting congratulations from brewing heroes like John Keeling of Fuller's and our own Hendo of BrewCult."
On the back of such success, Hingston launched Pact Beer Co. mid last year as a gypsy brewery, crafting his beers at breweries across Australia.
"Now with Pact it feels a bit like I've graduated to 'big school' and I'm starting it all over again, but it's really great to interact with even more of the country's great brewers and venues, and it's really satisfying to see so many people right around the country enjoying Pact beers that grew out of those original homebrew recipes," said Hingston. "We've worked with a few different breweries in both New South Wales and Victoria – it's been great to get into breweries with vastly different system configurations and brew lengths – it's great for learning and to help us design our own brewery when the time comes. Most recently we've been doing some of our small batch seasonal beers at the Wig & Pen in Canberra. It's great to be able to produce our beers in our home town and the Wig guys are heaps of fun – they're doing it for the beer and for the fun and that comes through in the product coming out of the brewery."
Having lived in Canberra most of his life, Hingston believes the local craft beer scene has never looked healthier, with venues and locals embracing the industry.
"Arguably we have the strongest home brewing club in the country and it was at Canberra Brewers where I was led to really let the hobby take over my life – from collecting more and more brewing equipment, to obsessively entering competitions, to helping organise the National Homebrewing Conference and then to starting up Pact Beer Co. last year," explained Hingston. "The Canberra beer scene has really exploded in the last couple years. We've seen bars like Transit, The Durham, Pot Belly and The Old Canberra Inn change from 'same old' line-ups to rotating and exciting craft menus. We've seen an explosion of really stellar restaurants starting up with uncontracted taps and interesting bottle lists. We've had an increase in events like Canberra Beer Week and the Beer Day Out, and we really got to show the rest of the country what we've got when we hosted the National Homebrewing Conference in 2014.
"Most importantly, though, people are voting with their feet. It's not just a Canberra thing of course, but I am excited to see it happening here – people are demanding more range, more flavour and are keen to support independent, Australian-owned brands."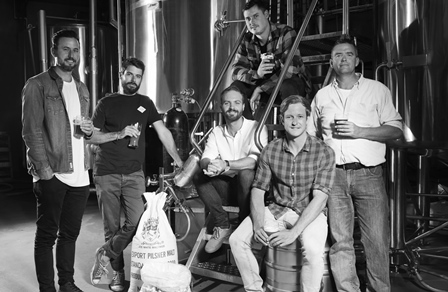 Capital Brewing Co.
The latest beer company to hit the scene has been formed by a group of mates in the beverages and hospitality industries. The team behind the aptly-named Capital Brewing Co. comprises the operators of Canberra venues Honky Tonks and Hippo Co. (Tom Hertel and Laurence Kain), and founding brothers of Batlow Cider Co. (Rich and Sam Coombes). The guys have brought in Wade Hurley as head brewer, who hails from the USA and is currently gypsy brewing out of a couple of Sydney-based breweries until Capital has its own brewery up-and-running later this year.
"Our head brewer Wade Hurley spent five years at US breweries Coronado and Greenflash before joining Capital, so he's brought a lot of his style and influence into our brewing program," said Rich Coombes. "Our initial line-up includes our Coast Ale, which is our take on a California common ale (30 IBUs, 4.4% ABV), our Trail Pale Ale (45 IBUs, 4.7% ABV) and a hop-driven seasonal Red IPA we have called the Evil Eyed Red IPA coming in at 60 IBUs and 5.8% ABV. It's an autumn seasonal and we have used some fresh US cascade hops recently harvested in Batlow."
The timing of the brewery launch coincides with the development of Batlow's hop program. Historically an apple growing region home to Batlow Cider, the last two years have seen the area move into hop farming. With Batlow located just 80km from Canberra, the team at Capital hope to brew with as many hops from the region's harvest.
"Batlow is widely-known for producing great apples, however more recently the Batlow Fruit Co-operative have expanded into hop farming, planting over 10 different varieties including chinook, cascade and super alpha to name a few," explained Coombes. "Recently a government grant was received to undertake a hop study of key hop producing areas in the US and NZ, and bring that expertise back to Australia to start NSW's first hop growing region. Our plan is to use as many Batlow hops as possible in our brewing and work with the hop growers to drive the program forward."
The Capital Brewing team plan to make the most of their hospitality skills, with a large brewhouse to open later in the year.
"We're about to take a lease on a great 1000m2 space in Fyshwick about 10 mins from the Canberra city centre," said Coombes. "There we'll have our brewhouse, bottling, kegging and canning production operations as well as a solid hospitality offering and tasting bar."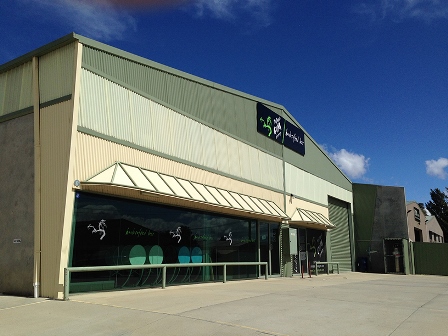 Tortured Gum Brewery
An avid home brewer while living in the States, it was Craig McAuliffe's need for more space when home brewing that would introduce him to a concept, which would shape his future.
"Regrettably upon returning to Canberra my commitments had me both time and space poor when a friend introduced me to a brew on premises franchise," explained McAuliffe. "I kind of liked the idea of being able to produce a large range of beers using somebody else's equipment and not have to worry about cleaning up after myself or worrying about controlling the fermentation as I had to do with home brew."
After working in information technology for 30 years, McAuliffe needed a sea change and decided to take his fondness for beer and brewing to the next level.
"Having been a customer at a brew on premises franchise I thought that there might be a lot more options that could be offered with the concept and was fortunate that the equipment from the previous franchise eventually became available. So with the backing of my family, in particular my wife Jane, we embarked on this new, exciting and challenging adventure, which was to become Tortured Gum Brewery," said McAuliffe. "Tortured Gum Brewery is a commercial brewery where we also offer brew on premises, as well as providing home brew supplies."
The brewery sees a strong demand from people wanting to come in and brew their own beer, particularly on Thursday nights and Saturdays.
"It only takes us about 45 minutes to get our kettles up to temperature, so we can usually squeeze people in at short notice," said McAuliffe.
McAuliffe is working on an exciting new campaign with ACT Tourism to encourage visitors to Canberra to spend an hour, make their own beer and have it packaged, labelled and shipped to them wherever they live in Australia.
"Visitors can come and spend an hour with us making their own beer from our extensive collection of recipes, we will manage the fermentation process, triple filter and force carbonate their 50 litres of beer and then package it up into 500ml cans and have it delivered to their address anywhere in Australia," explained McAuliffe. "Obviously cost will vary on delivery location, but Sydney should be about $315."
The Ultimate Six-Pack
We asked five ACT brewers what would be in their ultimate six-pack
Frazer Brown, Wig & Pen
Birra del Borgo Duchessa
BrewDog The End of History
Rodenbach Grand Cru
Russian River Pliny The Elder
Batch Brewing MacBatch
Wig & Pen former brewer Tom Lillicrap's 60 Shillings
Christoph Zierholz, Zierholz
Anchor Steam
Jever Pils
Rodenbach Grand Cru
Spaten Lager (on tap)
Leffe Brune (on tap)
Homebrew: trying friends' recent brews
Kevin Hingston, Pact Beer Co.
Piraat, Brouwerij Van Steenberge
Blood Orange Saison, Odell
Anniversary Ale, Firestone Walker
Act of God, Tuatara
Metamorphosis, KAIJU! Beer
Mount Tennent Pale Ale, Pact Beer Co.
Craig McAuliffe, Tortured Gum
Duvel
New Belgium Fat Tire Amber Ale
Harvey's Sussex Best Bitter
Guinness (only from St James Gate)
Hoegaarden
Sierra Nevada Pale Ale
Richard Watkins, BentSpoke Brewing Co.
The one that didn't run out!
Contact Details
BentSpoke Brewing Co.
38 Mort St, Braddon ACT 2612
(02) 6257 5220
Open: 11am to midnight every day
Wig & Pen Brewery
Llewellyn Hall, Australian National University, Canberra ACT 2601
(02) 6248 0171
Facebook.com/wigandpen.canberra
Open: Mon-Wed 11:30am-9pm, Thurs 11:30am-10pm, Fri 11:30am-12am, Sat 2pm-12am and Sun 2-7pm
Zierholz Premium Brewery
Unit 7/19-25 Kembla St, Fyshwick ACT 2609
(02) 6162 0523
Open: Wed-Thurs 11:30am-3:30pm, Fri 11:30am-late, Sat 11:30am-3:30pm
Tortured Gum
Unit 1-2/23 Raws Crescent, Hume ACT 2620
(02) 6260 1703
Open: Tues-Fri 10am-6pm, Thurs 10am-8pm, Sat 10am-3pm
Pact Beer Co.
Sales enquiries: Tim 0435 803 194
Capital Brewing Co.
Enquiries: Tom Hertel 0434 368 428
For more travel features and brewer interviews, subscribe to Beer & Brewer here.