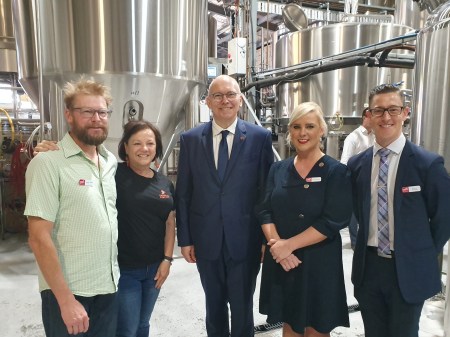 The craft brewing sector in South Australia has been one of the major industries to take up the state government's Skilling South Australia program.
Speaking at an event at Prancing Pony Brewery on Sunday 9 February, the state government of South Australia announced the 100th Skilling South Australia project.
Under the scheme, 700 South Australian businesses have taken on an apprentice for the first time. There have also been over 13,000 new apprenticeship and traineeship commencements in the first full year of the program.
Minister for innovation and skills David Pisoni said the state government had partnered with the Independent Brewers Association (IBA) to create traineeship opportunities and upskill workers in the state's growing craft beer industry.
Collaborative projects worth "more than $20 million" are already happening, with $45,000 of the funding going to support the Pilot Traineeship Program for Craft Brewing.
This program, which was designed in partnership with the Independent Brewers Association (IBA), will see 12 brewery workers upskilling through a Certificate III in Food Processing – Brewing with TAFE SA.
"Driven by the IBA, this is Australia's first traineeship in brewing and will support existing workers to advance their careers through practical on-the-job training and mentoring support," Pisoni said at the event.
"Employers involved in the project include Barossa Valley Brewing, Beer Garden Brewing – Port Lincoln, Big Shed Brewing Co, Prancing Pony Brewery and Sparkke."
IBA director Richard Adamson said the traineeship project was established to increase the skills, capability and capacity of independent breweries, supporting their business success.
"As breweries grow, so do their manufacturing needs along with the need for an adaptive workforce," said Adamson.
"Our industry's continued success relies on growing the skills of new and existing staff. If the proposed pilot program is a success, the IBA is looking to roll out Certificate III training across the state, encouraging all breweries to take on trainees."
The following breweries are already taking up the traineeship model:
Big Shed Brewing Co
Beer Garden Brewing Port Lincoln
Little Bang Brewing Company
One Barrel Brewing
Prancing Pony Brewery
Sparkke Change Beverage Company
Big Shed Brewing Co has implemented the traineeship model to support an employee and help to advance her career.
"As the industry grows, develops and becomes more competitive, the demand for skilled people will only increase," comments Craig Basford, co-founder of Big Shed Brewing Co.
"Having people with qualifications coming into our industry helps us create a better, more consistent product. This is better for the consumer and, by extension, the industry as a whole."
Similarly, Prancing Pony Brewery has currently got two employees enrolled in the scheme that aims to breach the gap between a purely academic education and on-the-job training.
"We have two young people that we are putting forward for the program," says Prancing Pony co-founder Corinna Steeb. "They're already working for us so we don't get subsidies, but they are getting qualifications and so will be more useful to breweries like ours.
"I think it has great potential to develop further, like a sub bachelors degree. It's a good foundation for anyone who works in a brewery. It's upskilling and getting that education under their belt.
"People are now looking to train their own brewers rather than having to pinch them from other breweries!"
"Our Skilling South Australia initiative is delivering great results for our state, providing jobs and opportunities for South Australians and meeting the needs of industry," Pisoni added at the event.
"Each Skilling South Australia project represents a collaboration with industry to build skills deemed vital to the growth of the business and sector.
"There are now more than 100 of these collaborative projects, worth more than $20 million, creating apprenticeship and traineeship opportunities across the state."