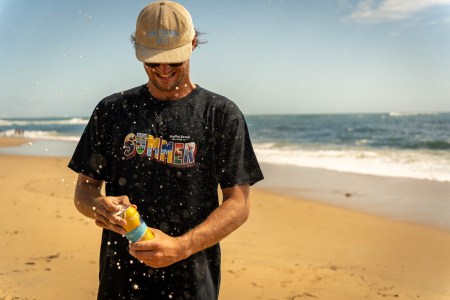 There's never been a better time to be a craft beer lover in Queensland with dynamic and award-winning breweries littered throughout the vast region. But as Jakkii Musgrave explains, that abundance of good beer is a fairly recent phenomenon as she chats with some of the early movers and current shakers in the state's craft beer industry to discover what has driven the growth.
---
"Mr XXXX" gives Brisbane a wink and a cheers as he holds his glass aloft from the side of the XXXX Brewery, presiding over the inner-city suburb of Milton. It's a familiar sight, as representatively Brisbane as the "brown snake" of a river that runs through it, and a brand as "Queenslander" as Billy Moore in his Origin jersey.
For years, that was the image of beer in Queensland, and while the "Milton Mango" and "pots of Gold" are still being consumed all over the state, along with other beers of its ilk, today the craft beer scene is booming, offering consumers a wide array of choices in beer and local businesses to support.
Queensland was a comparative slow mover in craft beer, hampered by a lack of shelf space for smaller breweries in a state where licensing requiring a full hotel license and a pub "nearby" to run a bottle shop resulted in very few independent bottle shops and a great many pubs owned by the big supermarkets. It's a complicated system that, just a few years ago, saw Coles offload their hotels in a complex deal with Australian Venue Co that allowed them to form a joint venture in order to continue operating their bottle shops in the state. Pair that with consumers who were steeped in the tradition of what their families drank and who certainly weren't asking for new beers, and you've got a dial that's hard to shift.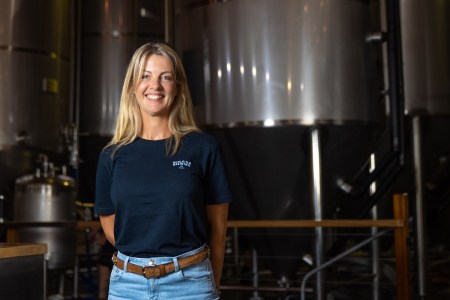 "I think we have a real diversity here, so many of the breweries have such a unique proposition and approach."

Peta Fielding, Burleigh Brewing
The early movers
That environment didn't daunt Burleigh Brewing Co, who were one of Queensland's first craft breweries, commencing operations in 2006 and opening their taproom doors in 2007.
"It was just so barren in terms of beer choice," Peta Fielding, Burleigh's co-founder and CEO, said of the local beer scene in the early 2000s. Peta and her husband, Hawaiian brewer Brennan Fielding, owned and operated a brewpub in Hawaii before making the decision to sell up and move back to Australia to open a brewery in Peta's home state of Queensland.
"We came back in 2002 and we knew that's what we wanted to do. We would've started sooner but we realised we weren't aiming big enough. If we really wanted to make a difference and give people a choice, we needed to be bolder. It was scary, but that's what we convinced ourselves – we came home to save Queensland," she said, laughing.
"At the time, beer wasn't part of the conversation, and there wasn't a great awareness of where it even comes from. There was a real lack of trust in a beer people didn't know."
It was a slow process, educating consumers, winning them over "one taste bud at a time", and turning them onto craft beer.
"It's fair to say we couldn't give away free beer in Queensland 16 years ago," Peta said of running beer tastings in bottle shops. "We figured out pretty quickly that our first job was to earn people's trust. That was a slow build. We weren't even talking to people about Burleigh Brewing, we were just talking to people about beer."
Their efforts paid off, and soon they were selling so much beer they'd outgrown their brewery, and by 2014, after having tripled the size of their initial site, they started looking for new premises. They found one that gave them room to expand further, and moved into the current site in 2015, where their operation has continued to grow and thrive.
While the reasons for Burleigh's growth might be clear, based on their 16 years of hard work, when it comes to the growth of craft beer in Queensland, the reasons are harder to pin down.
"I don't really know why Queensland has grown like it has, when it has," Peta added. "It's sort of that chicken and egg thing. Is it because the demand was there that people built breweries or was it more of a 'build it and they will come' scenario?'.
"I don't think there's one thing you can point to as the common thread of being a brewery in Queensland. I think we have a real diversity here, so many of the breweries have such a unique proposition and approach. And I think that's great."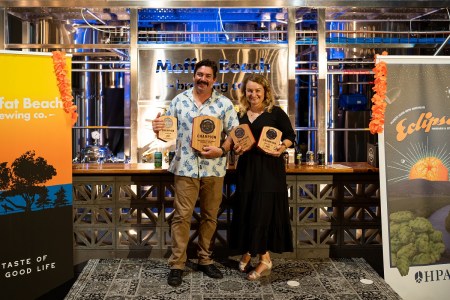 "We'd won a major trophy in 2018, and we thought, maybe we look at putting in a production brewery."

Matt Wilson, Moffat Beach Brewing – with fellow co-founder and wife Sharynne
Working up a thirst
On the Sunshine Coast, it was 2012 when Matt and Sharynne Wilson opened a cafe in Moffat Beach, and soon put in some beer taps to accompany their food offering.
"We did make a concerted effort to put different stuff on that was not at your local pub," Matt said. "And we made an effort to put on local breweries, too, we had Fortitude, Newstead, Green Beacon, but there wasn't a lot up here other than that."
In 2015, they installed a small brew kit at the café. Moffat Beach Brewing was born, and Matt's brewing journey began.
"It took me a while to scale things up from my little home brew kit to that small commercial one. It was at least six months before I started really getting it dialled in."
It's a modest start for what is now one of the powerhouses of the Australian brewing scene who almost routinely pick up Champion trophies to go with swags of medals for their beers. But, like Burleigh, they very quickly found they couldn't keep up with the demand for their beers.
"We just couldn't keep up at all. There was one stage at Christmas time, we had eight taps but I think only two of them were our own beer, we just kept selling out," Matt explained.
"We'd won a major trophy in 2018, and we thought, maybe we look at putting in a production brewery. We could sell some beers to other customers as well, but at least we'll be able to keep our own venue stocked up."
Planning began in earnest following a trip to an expo in China that year and, by the time they found a site and were ready to begin the build, Covid hit. The manufacturers couldn't travel to Australia to commission the brewery, and instead the equipment came and Matt forged ahead with assembling the brewery himself, with some help when he could get it.
"Putting it together, it really helped me understand the flow and the whole brewery better," he said. "It probably sounds harder than it was, all the parts were numbered with their matching pieces, so it was like the IKEA Olympics for putting a brewery together. It was daunting, but it was good fun at the same time – though I'm not in a rush to do it again!"
That production facility opened in late 2020 and, while its primary purpose is production, it does have a hospitality side and regularly hosts events. Opening the facility has allowed Moffat Beach to not only keep both venues stocked with beer, but to move into the wholesale market as well, getting more of their beer into more people's hands.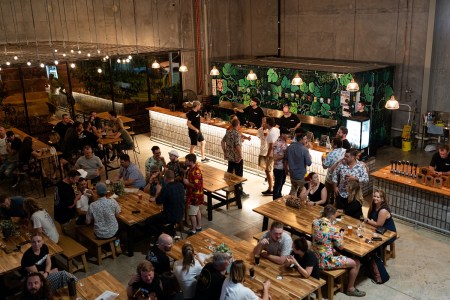 In the years since Moffat Beach first started pouring beer from their cafe's taps, the Sunshine Coast brewery scene has exploded, with over 20 breweries on the Coast who themselves are making waves and picking up medals and awards.
Reflecting on the changes, Matt said: "I can't really put my finger on it. It's probably a number of things. One is that it's a pretty good place to live here in Queensland. The weather's great, and there's been a lot of people move here.
"Another thing is that there's been an astronomical change in consumers since we first started. Back then, we'd really get a bit of pushback from people who just wanted their mainstream beer. But we stuck to our guns, even before we were making our own beer,
and now we've gone from that to consumers who are constantly asking 'what's next? What's new? What haven't I had before?'.
"Beer is still not everyone's cup of tea, but when you get someone to try something new and they enjoy it, I get a huge kick out of that."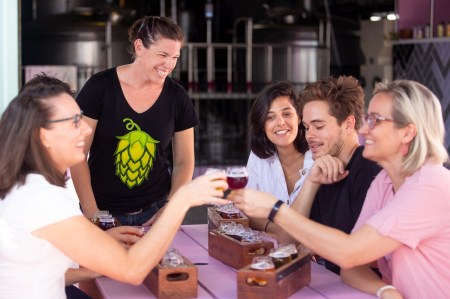 All aboard the beer bus
A fateful spotting of a brewery tour bus while at a beer festival in Port Macquarie led to Matt Farrelly and Joslyn Erickson (pictured above standing) starting Hop On Brewery Tours in 2016. After getting the idea, they realised there was a gap in the market, and they started tours with six breweries in Brisbane and one on the Gold Coast. Now, they work with over 30 breweries in Brisbane and another eight on the Gold Coast.
"We timed our launch to perfection to be honest, because it exploded not long after that," Matt said.
Joslyn added: "I think it was ripe for development. When you look at Melbourne and parts of Sydney like Marrickville and the growing beer community there, nothing really existed like that in Brisbane six or seven years ago."
Their tour business has grown considerably in the past six years, which Joslyn said is directly related to the growth in the industry.
"You can absolutely equate them. Not only have we grown and continued to expand our own knowledge but going to more breweries and meeting more people contributes to it too. In our first year we did 500 guests, and in 2022 we've taken out 700 in just (the last) five months."
Their tours are focused on craft beer education and appreciation and their favourite part of the business is converting people to drinking good beer.
"It's a great feeling when you've got someone who comes on and says 'I'm a XXXX drinker' and you see them a few months later and they're sitting there drinking one of the brewery's beers," Matt said.
"Even converting them on styles," Joslyn added. "They might say 'oh, I don't like dark beers' and then you'll hand them a beer from Bacchus that tastes like a Snickers and their eyes light up and they say 'I didn't know beer could taste like this!'. It's great."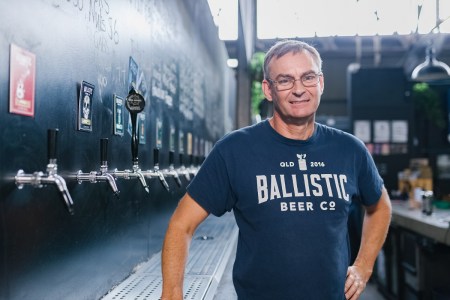 "If we want to be Queensland's number one brewery, we can't do it just from being in the bottom right-hand corner of the state."

David Kitchen, Ballistic Beer
Going Ballistic
In Brisbane in 2016 when Ballistic Beer launched in the suburb of Salisbury, the story really wasn't all that different to what Burleigh and Moffat Beach had already experienced on the coasts.
"When we started, there really was very little here," CEO David Kitchen said. "What was originally going to be an educational brewery for advanced homebrew customers of mine wound up being a full-scale brewery instead.
"It's certainly a very different story now. I think where we're going as an industry has morphed and will continue to morph over the next year or two. The model we came in with made sense then, but I wouldn't do that now. If I was doing it all again now, I would start a brewpub and put my investment and experience into making great experiences for customers with great rotating beers. Range Brewing is a good example of someone that's done that. It's an experience driven model, and your volume is in the brewpub."
Another brewery known for great experiences is the Gold Coast's Black Hops, who created their first beer in 2014 before opening their Burleigh taproom in 2016 after a successful crowd funding campaign – an Australian-first for a brewery launch. Their original taproom quickly became a favourite hangout for locals and they soon outgrew the space, eventually opening a large production facility known as Black Hops II in Biggera Waters in 2019, and going on to acquire Semi-Pro Brewing in late 2020, reopening it as Black Hops Brisbane.
Throughout their journey, the three mates who founded Black Hops have generously shared their knowledge and what they've learned along the way, helping to earn them a cult following around the country and make their name one that's synonymous with Queensland beer.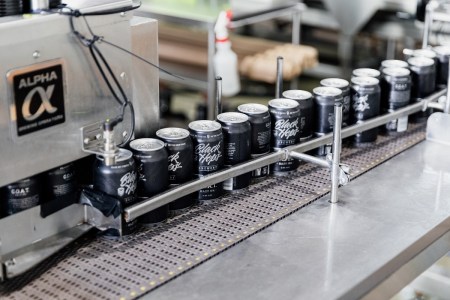 With the growth in population in Queensland over the past decade, it's tempting to assume changing demographics are the primary reason for the growth. However, it's not just the fast-growing south-east corner that has a taste for good beer. Craft breweries have popped up in the regions, too, making their way as far north as Port Douglas, where Hemingway's opened their doors in June 2016. Their ever popular The Prospector Pilsner is a serial award winner, picking up Best Pilsner at the 2019 AIBAs and gold medals in 2021 and 2022.
On the 1,750km drive between Port Douglas and Brisbane, you can stop in for a beer at breweries in places like Cairns, Atherton, Townsville, Mackay, Yeppoon, Rockhampton, Gladstone and Hervey Bay.
Ballistic Beer have also ventured into the regions, acquiring Bargara Brewing Co in the Bundaberg region, and Whitsundays Brewing Co in Airlie Beach.
David explained: "We made a clear decision that as part of our strategy we needed to go a whole lot deeper into Queensland and really focus on it. If we want to be Queensland's number one brewery, we can't do it just from being in the bottom right-hand corner of the state. We need to be in other places, and to be local in those places we need to have a brewery there too."
Through Covid, the opportunities to acquire Bargara and Whitsundays Brewing came up in quick succession, and almost overnight Ballistic went from having a strong, three-venue foothold in Brisbane to having a five-venue footprint spanning some 1,100km across three regions of the state.
Despite their desire to establish the Ballistic brand as a local one, supporting the communities of which they are now a part, David said they weren't viewed that way to begin with.
"We were viewed as the 'mega-brewery' coming in from the big smoke and taking over their brewery. We tried to go in slowly, but even then, I think we were too aggressive for some of the more conservative folk in town."
They've set about winning the locals over, though, through developing the Reef series of beers, which are aimed at the North Queensland market and that support local reef charities, and also providing a great customer experience while being good community members.
David added: "If you're providing a great experience, people will come in and while they're there, they'll try a beer and discover that they like it. And because they had a great experience, they'll come back again and they'll try another one. Beer by beer, they'll educate themselves, or they'll let you educate them if you've got good bar staff to talk to them about what's in the beer, why it's great and what's different about it.
"It is still the number one role of craft breweries to actually educate people that drink the beer."
The Sunshine Coast
Where is the craft beer capital of Australia? If you answered Melbourne or Marrickville, the Sunshine Coast would like to have a word with you. As part of a marketing campaign run by the region's tourism body, the Sunshine Coast is now leaning into craft beer in a big way as it capitalises on a statistic that shows the Coast's 21 craft breweries give it the most breweries per capita in the country – and that's not counting great beer bars like TAPS Mooloolaba.
"About a year ago I finally got Visit Sunshine Coast to recognise and target some of their marketing campaigns to really start to capitalise off having these breweries on the Coast," said Josh Donohoe, the founding director of Sunshine Coast Craft Beer Tours. "When they first started, I'm sure none of the breweries saw themselves as a tourism business. But now, they've all seen the value in being part of a beer trail and being part of a marketing campaign, because they're a drawcard to the destination."
Brouhaha is one of those 21 breweries and one with a strong reputation built off the back of a commitment to quality, which can be seen in their service, their food, and – of course – their beers, like the award-winning Strawberry Rhubarb Sour.
Kylie Taylor at Straddie Brewing cited Brouhaha's Maleny location (pictured above) as an inspiration for their recently opened venue.
"The setup they have there at Maleny is wonderful," Kylie said. "Their model of 'you're in amongst the tanks, but it's actually a really good quality restaurant as well' is great. Their service offering is what we aspire to."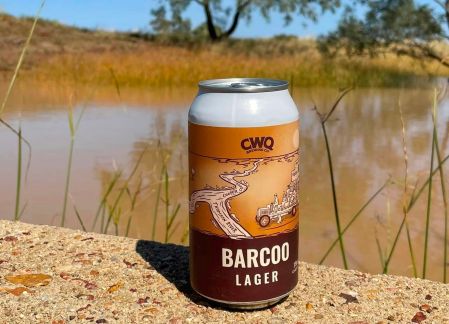 CWQ Brewing
The drive for local is a consumer behaviour being seen in other industries besides beer and in other places besides Queensland, which makes it ripe for governments and bodies looking at growth and development, particularly in regional and remote communities.
The Remote Area Planning and Development board (RAPAD), an organisation made up of seven local governments in Central Western Queensland, has turned to craft beer as an avenue for creating jobs through manufacturing and tourism.
They established CWQ Brewing and funded by a grant, in 2021 released three versions of their lager, each named for an outback town with each label's artwork telling a local story.
In 2022, this proof of concept received a further grant from the Queensland government and four new versions of the lager were released in four new can designs. The immediate aim is to build the profile of and interest in the project, while the long-term goal is to build a locally owned and operated brewery in Central West Queensland which will represent the first brewery in the region in 110 years.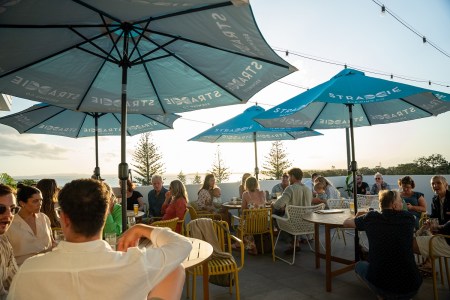 Island hop
The growth of beer in Queensland shows no signs of slowing down, with regular rumblings of new breweries doing the rounds. Straddie Brewing is one of the state's newest, who quietly opened the doors to their brewery on North Stradbroke Island (Minjerribah) in October 2022.
Delayed by Covid, they've been contract brewing out of Ballistic at Salisbury while they worked to get the build of the physical brewery back on track.
"The idea for the brewery came about when we were in Scotland on the Isle of Bute, and we saw the Butte Brewery. It was tiny, but it was everywhere," Straddie's co-founder Kylie Taylor said.
That trip sparked a vision that grew into a business plan and, eventually, the brewery on Stradbroke. Being on an island without a bridge and being committed to being a sustainable and environmentally conscious business, they've had to get creative in how they deal with things such as managing spent grain. The island only has two cows, so using the grain for livestock wasn't really an option.
"We're working with the local golf club," Kylie said. "They have lots of land and they're taking our spent grain and mixing it with their existing mulch. They spread it out and can turn it and look after it, and in six months' time it'll be fertiliser they can use on their greens."
It won't all be going to the golf club, however, as Straddie's chef will also be doing dog biscuits for furry friends who visit the bar.
What comes through more than anything is their love for the island and their desire to showcase it, building a destination brewery that will allow more people to learn more about the island and, hopefully, love it as much as they do.
"We love Straddie," Kylie added. "It's beautiful. And it's a wonderful community."
It's the same love for place that you find in communities all around Queensland, and in the breweries that make their homes within them.
It's not unique or exclusive to Queensland to have a love for place, but Queenslanders are nothing if not parochial – and usually proudly so.
"I'm wildly parochially Queensland," David Kitchen at Ballistic said. "It's an easier place, it's a more relaxed place."
And now, it's a more beer-friendly place than ever too.
---
This feature appears in our Summer 2022/23 issue that's out now. To read it in print, and features just like it in every edition, subscribe to our quarterly magazine here.