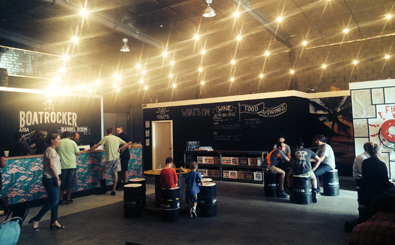 Written by Nick Connellan
If you aren't quite convinced that sour beers are on the rise, look at what's happening in Braeside, an industrial suburb of Melbourne. The two-year-old Boatrocker Brewery has just opened a Barrel Room to the public three days a week.
Inside the converted warehouse (what else?) drinkers sit alongside 150 old wine, whisky and bourbon barrels containing Berliner weisse, Brambic (Braeside lambic) and the cult Ramjet, a limited-release Imperial stout aged in whisky barrels. All told there's about 45,000 litres sitting in barrel, with plans to double this capacity soon.
The room was built after an investment from the Made By HAND group, aka Little Creatures founders Nic Trimboli, Howard Cearns, David Martin and Adrian Fini. The foursome now hold a 33 per cent stake in the business.
The main brewery is across the road, with wort carried to the barrel room on forklifts. This is a boon, because it limits cross-contamination from souring agents such as brettanomyces and lactobacillus.
Boatrocker's founder, Matt Houghton, has been collecting barrels since he and wife Andrea opened the brewery at the start of 2013. His interest in beer goes back much further, to when he was a teenager. "I've been homebrewing since before I was legally allowed to, probably since I was about 16 or 17," he says.
Later he discovered beer writer Michael Jackson and his TV show, The Beer Hunter. "My first backpacking trip through Europe was loosely based on his little pocket guide to beer," Houghton says. "I just marked out the countries and the bars and the breweries that I wanted to go to. That was it for 12 months, pretty much."
With this knowledge at your back, the taplist at Boatrocker's Barrel Room makes perfect sense. There's Boatrocker's first ever beer, an American pale called Alpha Queen, as well as an Australian pale, a red ale and a Pilsner.
But things get most interesting when you buy into the barrel program. Miss Pinky is a 3.4 per cent ABV Berliner weisse brewed with 100kg of raspberries. It's tart, refreshing and eminently smashable. There's also a typical saison; Crown Cola, a Scotch ale aged in bourbon barrels; and Roger Ramjet, a bourbon-aged Imperial stout. For now, only nine of the 15 taps are online, but more are being added fast.
If you're prepared to shell out a bit more, there are more beers in bottle, including a Belgian-style tripel, more Berliner weisse, whisky barrel-aged barley wine and Brambic, the 30-month-old "Braeside lambic". It's called that "out of deference to the Belgians and not wanting to step on any toes."
For some people, the allure of Ramjet (whisky barrels) and Roger Ramjet (bourbon barrels) will be enough to make the trip worthwhile. "It pretty much sells out before we package it," Houghton says. Each year he gets an allocation of barrels from Starward Distillery in Essendon, limiting how many litres of each beer he can make.
"One of the things that's made it so cultish is the ageing," he says. "A lot of these big beers need time to find themselves. We age Ramjet for anywhere between five and six months in the whisky barrels, then we package it, then we let it sit for maybe another six months in bottles or in keg. That time just makes it mellow out. All the rough edges become integrated."
You can match the beer with slow-cooked pork and beef sliders, which are smoked on site by venue manager Craig Baum. Houghton is also making plans for charcuterie boards with local cheeses.
Boatrocker Brewery
51 Macbeth St, Braeside VIC 3195
Opening hours:
Friday 4pm-11pm
Sat and Sun 12pm-8pm