From a backyard passion to a South Australian success story, Big Shed Brewing will mark their 10 year anniversary this weekend with a three day birthday bash at their Royal Park brewhouse.
The October 21 – 23 celebrations include two new limited release beers launched at the taproom on Friday night, 90s pop punk band Bodyjar playing on Saturday and markets on Sunday featuring Underground Records, Crackle + Pop Records, Offbeat Sock Co, Black Match Candles and more.
"We've grown so much and have had so much support over the past 10 years that we really want to celebrate in style," co-founder Jason Harris said.
"This is a weekend to say thanks and celebrate the first decade of what's turning out to be a great journey with all our loyal staff, our friends in the trade, our amazing customers and lovers of the adventure that is craft beer.
"It takes a lot of hard work to run a business like this, so we think everyone deserves to be part of the celebration."
The two special limited release beers are a smoked pineapple and jalapeno fruited sour beer cocktail and a raspberry oat cream birthday cake pale ale. Their launch on Friday will be backed by plenty of food and live music to complete the party atmosphere while Bodyjar will be supported on Saturday by local acts Lickity Split and LOLA as well as Sydney foursome Mole Men.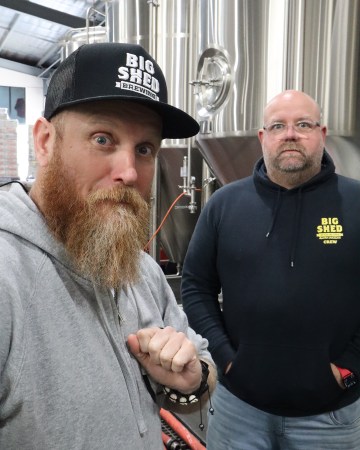 Big Shed Brewing officially started in October 2012 in the back streets of Royal Park. Early success compelled Jason and fellow co-founder Craig Basford (pictured above) to move to bigger premises in the same street (Brandwood Street) where they opened a small taproom and started to attract a strong local following.
Their breakthrough came when their Golden Stout Time became a fan favourite after debuting at the 2015 GABS in Melbourne. This was followed by winning the 2018 People's Choice at GABS with Boozy Fruit – the only SA brewer to have won this award.
The growth that followed necessitated a move to the brewery's current premises at 1154 Old Port Road – still in Royal Park. The business now employs more than 60 staff across three states and recently appointed ex-Lion Nathan and SANFL leader Jake Parkinson as CEO.
Family is still very much at the heart of Big Shed, with Craig's wife Nat and Jason's wife Rachel both balancing their own full-time careers with afterhours support for the business.
"I think our biggest achievement over the past decade has been our ability to stay true to our origins while also looking over the horizon to what's next," Craig said.
"Many of our earliest employees are still with us, we're still fiercely independent and we feel like we're only getting better in terms of our creativity.
"We've been through a lot and had to take a lot of calculated risks with our own capital – both personal and financial – but it's paying off and it's important to celebrate a milestone like this one."
Big Shed Brewing's 10th Birthday Bash will run Friday 21 to Sunday 23 October from 12pm daily at 1154 Old Port Road, Royal Park SA 5014.