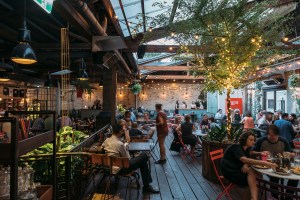 Stomping Ground Brewery has reclaimed its position as Australia's best brewpub in Beer & Brewer's Top 50 Brewpubs list for 2018.
The brewery, which is located in Collingwood, Melbourne, won the award last year and has fought off the competition to be crowned champion once again. Stomping Ground enormous beer hall opened in 2016 and has been delighting customers ever since, featuring a 30-tap bar, seating for 250 people and a beer garden.
"It's absolutely fantastic," says Steve Jeffares, co-founder of Stomping Ground. "It's a great thing for our staff and brewing team at the beer hall. We've just developed such a fantastic crew of people over the last two years who've helped to raise the bar of our own standards. Every year, we're trying to improve. We invest fairly heavily in training and retaining our staff, so when we get accolades like the Beer & Brewer Top 50 Brewpubs it reinforces that we're on the right track."
The brewery is continuing to invest in its team, with Stomping Ground's venue manager Matt Marinich recently becoming the first Australian to qualify as an Advanced Cicerone.
"We were thrilled when we found out [about Marinich]," adds Jeffares. "We hope to have another beer hall in Melbourne at some point. Part of the reason is that customers have responded so favourably to what we've done. We want to be able to build our brand in ways that build on our strength. That's what we enjoy – that direct to consumer relationship."
In a contrast of old and new, The Wheatsheaf in Adelaide claimed the runner-up spot for the third year running, but third place was taken by a completely new entry – Hop Nation in Footscray, Melbourne. Sydney's Inner West was represented well, with Grifter Brewing Co coming in at number four, and Batch and Sauce sitting at 14 and 15 respectively. FogHorn Brewhouse in Newscastle, NSW, completed the top five.
The list was compiled with the help of 23 industry experts, including the likes of Ian Kingham, Matt Kirkegaard, Kirrily Waldhorn and Tim Charody, aka The Beer Pilgrim. Each expert voted for their five favourite brewpubs – that is a venue that makes its own beer – with the scoring weighted so those at the top of the panellists' lists scored higher than those at the bottom. There were no strict criteria, judges voted based on a range of factors such as the quality of beers, service, staff knowledge, and venue atmosphere.
The complete list of the Top 50 Brewpubs, together with judges' comments, can be found in the Spring Issue of Beer & Brewer, which is on sale now in newsagents, liquor stores and home brewer shops. You can subscribe to Beer & Brewer here.
Did we miss your favourite craft beer spot? Tell us on Facebook what your top craft beer venue is, and the spot with the most mentions will be announced as the Beer & Brewer People's Choice Top Brewpub.
The Top 20 Brewpubs for 2018 are:
For the rest of the list, subscribe to Beer & Brewer here.