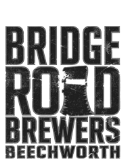 For anyone wanting to get their head around precisely what it is that hops will do to a beer, the brewers at Bridge Road in Beechworth have developed and released their "Beer School Hop Pack" – four beers that use the same malt recipe, but which have each been given a different strain of hops.
The result: a four-pack of 'the same, but very different' IPAs that Bridge Road reckons will help any lover of beer extend their knowledge of hops, and the different characteristics that they can lend a beer – plus, it'll taste good too!
The hops varities on offer are Galaxy, Ella, Summer and Vic Secret. Available as a four-pack, or individually (if you discover one that you really, really love…).
Hit up the Bridge Road Brewers website for more details.