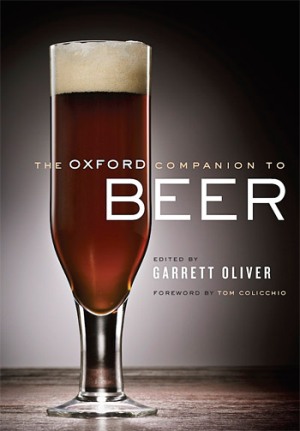 An almost 1000-page-long book on beer, that was almost 4 years in the making, has taken out the top honour at
one of the world's most prestigious international culinary book awards, the André Simon Awards, in the "Drinks" category. The Oxford Companion to Beer was a surprise winner in a category that has always been the natural preserve of wine literature, heralding the renaissance of the amber nectar in gastronomic circles as a sophisticated and complex drink that can rival the best wines in the world for depth and enjoyment of consumption.
The book, edited by Brooklyn brewmaster Garrett Oliver and German-American industry consultant and author Horst Dornbusch, features more than 160 experts from two dozen countries and covers more than 1,100 subjects. Arranged in alphabetical order, it covers everything from styles to ingredients, brewing techniques to history, economics and politics – basically everything a beer-lover has ever wanted to know about their favourite beverage.
The publisher, Oxford Universty Press is now waiting with bated breath for the results of the James Beard Awards – the hospitality equivalent of the Oscars – for books published in English, in 2011, in the category "Beverage" to be announced in May.
We'll keep you posted.