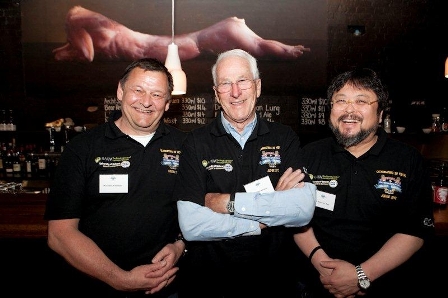 Anders Kissmeyer, Peter Manders and Masayoshi Kaji
Last Thursday, in partnership with Chris Badenoch, beer expert and co-owner of Josie Bones, the Australian International Beer Awards (AIBA) previewed an exclusive beer and food matching menu specially designed for their forthcoming awards presentation dinner – held in May at the Melbourne Convention and Exhibition Centre – proving that the annual awards continue with their tradition of innovation as they enter their 20th year.
Being stranded in Sydney, the intrepid Beer & Brewer team was disappointed to miss out on the array of goodies on offer – however we promise to valiantly struggle on until May 17 when we will get our fangs into the creations from the team at Josie Bones – Badenoch's Melbourne restaurant. And if their past recipes for us are anything to go by, dinner will be well worth the wait.
Stout Panacotta with Rhubarb and Praline

The three course tasting menu, presented as a canapés, comprised of a delectable selection of dishes including an entrée of ocean trout and spanner crab, a main of pork belly and a rather good looking baby pannacotta for dessert. The food was, of course, served with tasting-sized samples of the 2011 winning beers, further proof that beer is just as versatile, if not more so, as wine when it comes to pairing it with meals.
"We're passionate about using beer as an ingredient as well as an accompaniment to great food and the dishes we've created for the AIBA highlight the quality and diversity of entries," says Badenoch.
Chris Badenoch at home in his restaurant, Josie Bones
As we have previously reported, the AIBA have received record entries this year with each one of the 1352 beers entered vying to be the best of the best.
Beer enthusiasts are invited to taste the 2012 AIBA entries at the inaugural World of Beer – Tasting Around the Globe event where the public can sample local and international packaged beers entered this year for judging. The first World of Beer – Tasting Around the Globe event will be held on Friday, 18 May, 4:00pm to 8:00pm, at The Atrium, Federation Square with tickets are available from www.beerawards.com.
For more information about Josie Bones visit www.josiebones.com