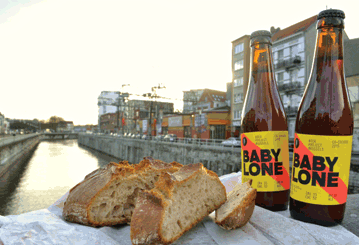 After more than a year of research and development, microbrewery Brussels Beer Project has launched a new beer brewed from recycled fresh bread. Its name 'Babylone' refers to the ancient capital of Mesopotamia and the very origin of beers.
The brewery was spurred into producing the beer after realising how much bread was thrown away by supermarkets in Brussels every day, with bread waste estimated to be about 12 per cent of total food waste.
After more than a year of tests and five prototypes, the Brussels Beer Project found a way to conceive a recipe using 30 per cent bread. For each beer, there is the equivalent of one to two slices of bread.
The name pays homage to the history of beer, as 7,000 years ago the ancestor of beer was a sort of porridge made of fermented bread. Babylonians used to drink it on a daily basis.
Antoine Dubois, a former researcher at the Brewing Sciences Institute of UCL University, worked on a recipe combining bread, great barley malt and a good dose of fresh hops. The result is a beer with very aromatic notes and a long-lasting bitterness.