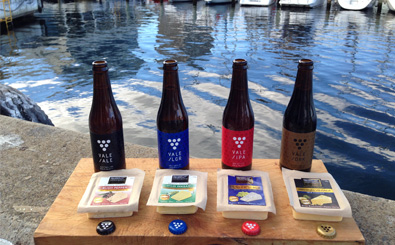 A South Australian brewer has become the main sponsor of Australia's largest cheese festival, replacing wine in the traditional food and drink pairing.
Vale Brewing, the McLaren Vale based brewers of Vale Ale and other beers, has signed up to be the naming rights sponsor for the 10th annual CheeseFest in Adelaide in October.
General manager of Vale Brewing, Michael Hanton, said they agreed to sponsor the decade-old event because the festival is all about combining good food and good times.
"There is a good mix of restaurants and wineries involved, so it's natural beer should be involved too," Hanton said.
He said Vale Brewing had participated in past CheeseFests and had done beer tastings, cheese pairings and provided beer for chefs to use in cooking demonstrations. This year they will support local chefs and fresh-food ambassadors Simon Bryant and Callum Hahn.
Head brewer Jeff Wright said beer and cheese clearly complement each other and the festival was a good way for people to develop their own pairings.
"Beer and cheese matching is very much the new black," he said.
Wright added that, similar to wine, matching beer and cheese depended on personal tastes but finding complementary flavours was important.
"Milder cheeses go with the more mild lager flavours," Wright said. "Big blue cheese flavours go with IPAs and Belgian beers."
"You need to look at the influence that hops, malt, alcohol levels and carbonation add and how they interact with the flavour and texture of the cheese," he said.
Wright stressed that to receive the full flavour experience you need to have the cheese and beer combine in your mouth at the same time.
CheeseFest director Kris Lloyd said the festival continued to gain momentum.
"This was a concept that started on a dinner napkin and it has evolved into a much-loved festival that brings so many people together to celebrate cheese," Lloyd said.
"In 2005 we had just 800 people. Last year, there was a record crowd of 20,000. This year, for the first time, it will begin on a Friday night and will continue over the weekend."
Wright's pairing picks:
Vale Ale – pepper hard cheese
Vale Lager – smooth cheddar
Vale IPA – blue cheese
Vale Dark Lager – vintage cheddar