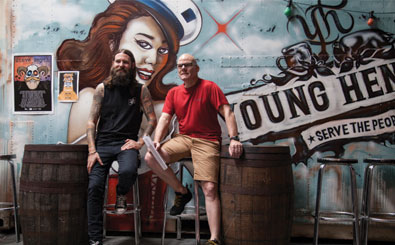 New pop-up eatery experience Beast Feast kicks off 17 August, as Sydney venues Young Henrys, Knafeh, Happy As Larry, Sol Invictus Motorcycle Co and The Stables hit the road to travel along the east coast of Australia for one week.
Travelling from Sydney to Melbourne and stopping along the way at Moruya, Yass, Gundagai and Albury, the Beast Feast gang will set up at each stop from mid-afternoon through until the evening.
Showcasing everything from authentic Napoli pizza and craft beer to a Palestinian bakery, these Sydney locals will open their doors in the hope of making new friends.
Kicking off with a launch party at the Young Henrys brewery in Newtown on 17 August, the gang will be giving inner west locals a taste of what's in store for regional folks.
"Beast Feast is the brainchild of Danny and Todd from The Stables. The guys contacted Young Henrys regarding getting involved and it was an idea so close to our hearts that we absolutely had to get on board!" said Jenny Shaw from Young Henrys.
"The road trip unites like-minded businesses with the goal of serving the people a quality product, in areas of Australia that may not necessarily have access to a perfect pizza or delicious fresh beer. It's not only about feeding these people but also bringing the party and a night of food, beer, music, dancing and a culture that locals may not have experienced before."
Whether beer or coffee is your poison, or perhaps traditional Napoli inspired pizza or authentic Palestinian baked sweets; make sure you check out Beast Feast when it swings by a town near you 17-22 August.
"Beast Feast will be the road trip of a lifetime for us and hopefully one hell of a night for the locals in each of the towns we stop in. Bring it on!" said Shaw.
Beast Feast dates and locations:
17 August, Launch – Newtown
Young Henrys, 76 Wilford Street, Newtown
18 August, 1st Stop – Moruya
Farmers Market, Lot 7301, Ford Street, Moruya
19 August, 2nd Stop – Yass
Riverbank Park Picnic Area (Yass Valley Way)
20 August, 3rd Stop – Gundagai
Town Centre (opposite Council Chambers)
21 August, 4th Stop – Albury
Town Square
22 August, End – Melbourne
Location TBA