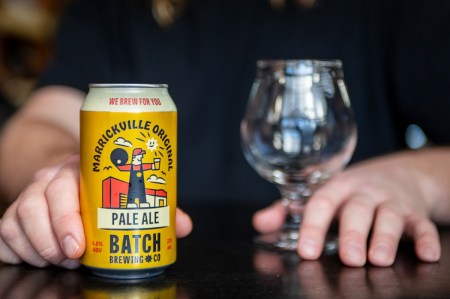 Batch Brewing have undergone a major rebrand and product revamp as they near their 10 year anniversary.
Founded in 2013 as one of the original independent craft breweries in Sydney's now brewery-laden Inner West, the company's first major rebrand comes after it joined forces with near-neighbours Wayward Brewing late last year to form the Local Drinks Collective.
The overhaul includes a makeover of their logo – which features a character with a keg and a pint – and at times new names and recipes for their core range beers. Their foundation ethos of "We Brew For You" remains however and stays stamped at the rim of their new-look cans.
Illustrator and designer Clint Weaver from Pocket Beagles was brought on board for the redesign after already working with Batch on their Collabathon and Sourfest event artworks in recent years.
Clint said: "We set out to create something a bit more modern, without losing the heart of the Batch brand. The Batch character was central to this, we wanted to inject them with some personality and take them on an adventure across the core range packaging, ensuring it represented the quality of the beer within, and the diversity of the characters who drink Batch beers".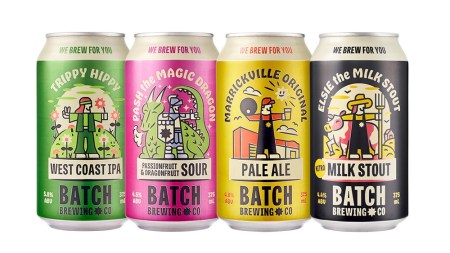 All members of their core range have been given refreshed visuals, including Pash the Magic Dragon Passionfruit and Dragonfruit Sour and Elsie the Milk Stout, while the American Pale Ale and West Coast IPA "have been reimagined to better resonate with consumers". Batch's core range also features their Hip Hip Hop sparkling hop water while they said a few more releases are in the pipeline.
Now dubbed Trippy Hippy, Batch said the WCIPA is a nod to past offerings like Voodoo Gold and Double Rainbow that were part of the Trippy Hippy series and which riffed on their original core range West Coaster. Co-founder Andrew Fineran said: "It felt fitting to honour our heritage as we step into the future".
Meanwhile, Batch's first ever beer – the American Pale Ale – is now the Marrickville Original Pale Ale and goes from 5.2% ABV to 4.8%.
Andrew added: "American Pale Ale was our very first brew, initially crafted in my backyard and later perfected at the brewery. While I cherish this beer and its significance to Batch, I believed it was time for a recipe refresh".
Batch said their rebranded range is rolling out now in NSW, ACT, VIC and QLD while it will be officially launched at their 44 Sydenham Road taproom in Marrickville on the weekend September 23 – 24.