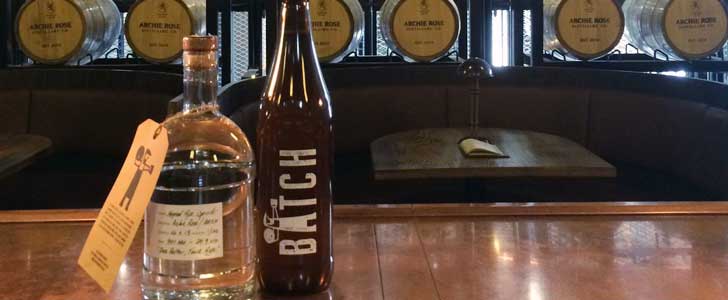 Written by Stef Collins, editor bars&clubs
In a collaboration in the spirit of 'Rye July', inner Sydney brewery, Batch Brewing Co, has teamed up with local distillery Archie Rose to create a unique limited edition matched beer and spirit project.
After first meeting over a year ago, Will Edwards, owner of Archie Rose, and Chris Sidwa and Andrew Fineran, co-owners of Batch Brewing Co, have been keen to run one of the brewery's beers through the distillery and see what the resulting spirit would be like.
According to Fineran, the idea of pairing whiskey and beer is something that he and Chris had been toying with for some time.
"We've brewed rye ales before with that idea in mind as well and they've worked with some success," he said. "The idea has actually been in the works since before Archie Rose was founded. So when [Edwards] came to visit us at the brewery, we floated the idea of a collaboration."
Their idea – possibly the first collaboration of its kind in Australia – finally came to fruition recently with Batch creating a high ABV, dry hopped Rye IPA. With a few tweaks on board to ensure the appropriate flavours came through the distillation, 1,000 litres of the brew were then tanked over to Archie Rose – with 1,400 litres reserved for bottling. The distilling team then ran the brew through a double distillation to create a unique "hopped rye spirit".
"At the time though we really didn't know how it was going to turn out," said Fineran. "I don't think we actually realised we would be distilling one of our beers into a spirit."
The resulting 25 kegs of Rye IPA beer and 100 bottles of hopped rye spirit will be available to taste this weekend at a variety of local venues. Fittingly, as they come from the same brew, the beer and spirit will be served side by side, boilermaker style, to properly appreciate the nuances in the products.
According to Fineran, there is a residual sweetness in the spirit that is present in the beer as well.
"It comes from our slight change in recipe of the Rye IPA to ensure there wasn't as much bitterness coming through," he said. "The distillation process would have carried it through too much and that wasn't appealing to us at the time. However, the hop aroma from our late and dry additions comes through in the aroma and flavour of the spirit, which makes for a really nice bouquet."
The limited editions have been made available to 25 local bars as packages representing roughly equal numbers of schooner and nips.
The spirit has been delivered in hand-labelled Archie Rose bottles, adorned with the now iconic Batch Brewing Co swing tag.
Both teams are extremely pleased with the quality of the collaboration and there are plenty of ideas about what other beers from the Batch portfolio would make excellent spirits.
Venues stocking the limited edition boilermaker serves include: Archie Rose Distilling Co, Rosebery; Blacksheep, Newtown; Miss Peaches, Newtown; The Wild Rover, Surry Hills; Royal Albert Hotel, Surry Hills; Gasoline Pony, Marrickville; The SG, CBD; Earl's Juke Joint, Newtown; Empire Hotel, Annandale; The Temperance Society, Summer Hill; The Local Taphouse, Darlinghurst; The Baxter Inn, CBD; The Welcome Hotel, Rozelle; One Penny Red, Summer Hill; The Marlborough Hotel, Newtown; Keg & Brew, Surry Hills; Frankie's Pizza, CBD; and Hive Bar, Erskineville.
To stay updated with all the latest spirits news click here.