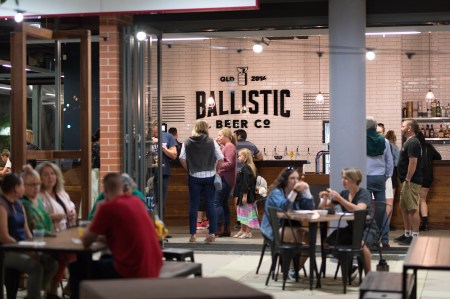 Ballistic Beer Co has opened its third bar/hospitality operation.
The venue, which is located in Brisbane's western suburb of Springfield Central, Ipswich, opened on 23 October 2019. It joins other "community-focused" venues at West End and Salisbury.
"Ballistic has completed the fit-out of the old Springfield Central Tavern site in Springfield Education City, after an eight-week project plan," explains David Kitchen, co-founder of Ballistic Beer Co. "Complete with an installation of an 800-litre brewery that will focus on brewing a wide variety of speciality beers for the people of Springfield."
The venue can hold 350 people and features function spaces, a beer garden, specialty takeaways, acoustic live music, full bar (including wine and spirits) and 18 of independent craft beers. It will employ around 30 full and part time staff primarily from the Greater Springfield area.
"We're very much looking forward to being part of the local Springfield community and bringing people together with the one thing that does it better than anything else, great beer."