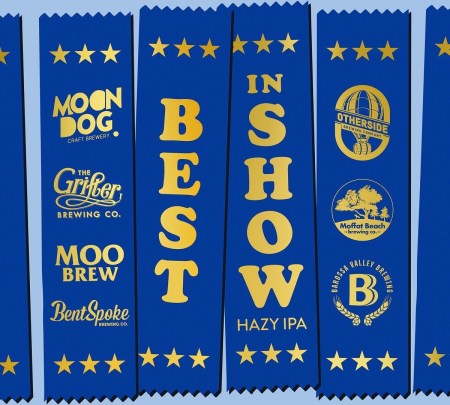 Seven award-winning independent breweries have come together on the Best in Show hazy IPA that's being billed as Australia's largest beer collaboration.
The limited release, that will pour exclusively from June 30 at the contributing breweries before being released nationally, sees the 2022 Australian Independent Beer Awards' state and territory champion breweries combine. The beer's June 30 launch date also coincides with the submission deadline for the 2023 Australian Independent Beer Awards that is run by the Independent Brewers Association (IBA).
The Best in Show collaborators are Moon Dog (VIC), Moffat Beach Brewing (QLD), Barossa Valley Brewing (SA), Moo Brew (TAS), The Grifter Brewing (NSW), BentSpoke Brewing (ACT) and Otherside Brewing (WA).
"The Australian Independent Beer Awards is one of the IBA's flagship programs and continues to grow in numbers and sophistication each year," IBA CEO Kylie Lethbridge said. "With our advisory committee, we work tirelessly to ensure that the awards grow and evolve, so when we were asked to support the very first collaboration between state and territory trophy winners, we jumped at the opportunity."
With the beer conceived as a celebration of the camaraderie between independent craft brewers, each brewery has contributed a hop or hopping process to produce a beer that reflects the styles of the individual contributors.
"Having the opportunity to sit down with brewers from across Australia and truly collaborate on a beer is really unique and the results really speak for themselves. We've all added our unique technique or ingredient and brewed a bloody good beer," Moon Dog's head brewer Kevin te Werik said, whose brewery was also crowned champion large brewery at the 2022 Indies.
Matt Wilson, from Moffat Beach Brewing who also won the 2022 Indie trophy for champion medium brewery, said: "It's always a thrill to collaborate on a beer with like-minded brewers. For us, being a regional brewery, we love the opportunity to share ideas and learnings with peers across the country".
Kylie added: "The biggest of congratulations goes to Moon Dog for taking on the challenging role of coordinating the project on behalf of all the champions and for coming up with such a cracking name, and a sincere thanks to our trade partners that have agreed to take it on in store".