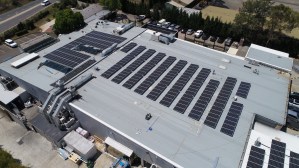 The Australian Brewery has launched a new solar energy initiative to reduce its annual carbon emissions by over 112,000kg – the equivalent of 2,800 planted trees.
Autonomous Energy has been engaged to install 277 high-performing photovoltaic panels as part of a 100kW solar system which will generate enough electricity to power the entire brewing process at the microbrewery – over 149,000kWh in 12 months.
"We are passionate about creating Australian-owned, locally brewed craft beer, but that also means caring about the impact that our process has on its surrounds," comments Daniel Shaw, head brewer of the Australian Brewery. "Solar energy helps us slash emissions and boost renewable energy, reducing the environmental impact of our business now and into the future."
The installation of solar panels is the latest sustainable initiative from the craft brewery, joining an extensive solar hybrid hot water system, waterless urinals, and the recycling of cooking oil, cardboard and containers.